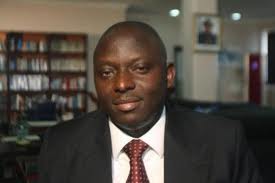 *11 suspected pirates, arrested
Godwin Oritse & Godfrey Bivbere

11 September 2012, Sweetcrude, Lagos – A joint operation of the Nigerian Maritime Administration and Safety Agency, NIMASA, and Global West Vessels Specialist Limited has resulted in the arrest of one lady and ten suspected male pirates alleged to have been involved in major hijacking, oil theft and kidnapping.
During a news briefing at its Regional Maritime Rescue Center in Lagos, NIMASA's
Director General Mr. Patrick Akpobolokemi said that the agency has also launched a manhunt for the major sponsors of the group.
Akpobolokemi also fingered some security operatives involved in the activities of the syndicate he described as a cartel.
The NIMASA boss also stated that the agency has resolved to crush the syndicate whom he noted want to strangulate the economy.
"The young men and lady you see here today are part of the network of cartel that have caused a lot of problem for us, they have been engaged in organized crime in our maritime domain.
"They have been on our surveillance list, and we picked them from different location some from out side the state and others from within the state.
"We have one of the master minds and major sponsors of the cartel and at the time of their arrest they were about going out for another operation.
"They are not all here, there are others on our list that we are still looking for and I think that it is necessary that the public understands this problem and gives us their cooperation.
"They have caused untold hardship to Nigerians, they have hijacked tanker vessels. If for instance, a tanker vessel has 10,000 tonnes of fuel in the hull, they will hijack it siphon some of this fuel and sell it to ready buyers.
"I even heard that one of the arrested sponsors already has a criminal case in court. I want Nigerians to know the people causing some of our economic problems and giving Nigeria a bad name and making the country to lose revenue.
Akpobolokem also stated that the logistics that led to the arrest of the suspects  was provided by the management of Global West Specialist Vessels Limited a firm purportedly owned by Chief Government Ekpemupolo, aka Tompolo. The firm was awarded a contract to secure the nation's coastal waters.