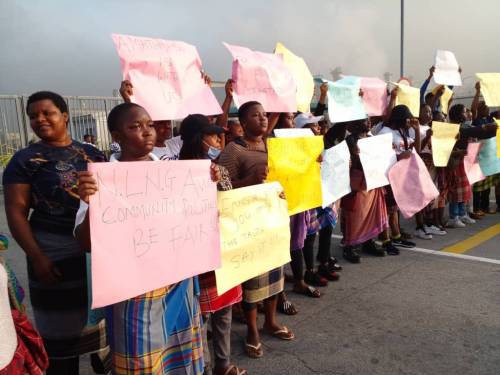 *Some of the protesters at the NLNG entranceMkpoikana Udoma
Port Harcourt — Nine persons from Finima community have been critically injured, after some youths allegedly from Bonny kingdom staged a counter-protest against the people of Finima who were on a peaceful protest against the Nigerian Liquefied Natural Gas Limited.
Recall that youths, elders and women of Finima community this morning blocked the main entrance to the industrial area of NLNG, protesting to be recognized as the landlords to the gas multinational.
The protesters numbering over 1000 displayed placards with different inscriptions, such as "NLNG respect the NOGICD Act, give us our rights as host communities", "NLNG stay out of community politics," "We shall not back down; the Brown House in Finima is NLNG landlord", "NCDMB's CCG is clear. NLNG obey Nigerian laws."
Speaking on behalf of the protesters, Mr. Dagogo Lambert Brown, said several attempts to dialogue with the management of NLNG on the matter proved abortive, adding that Finima has also engaged NCDMB on the matter, but it was politicized.
Brown maintained that the protest was not about kingship or politics but peaceful demand of their rights to be recognized as landlords of NLNG.
"We are tired with our tenant, NLNG. They have refused to obey the NOGICD Act of 2010 which clearly defined an host community and their rights.
"Finima is the landlords of NLNG and we need to be recognised as such. Finima will not rest until what we deserved by the law of Nigeria, is given to us. And NLNG as corporate citizen should respect Nigerian laws."
Also speaking, a woman leader and former Councilor in Finima, Mrs Preye Kabaka, lamented that the people of Finima are being grossly marginalized by NLNG.
"NLNG train 1-6 sited in Finima and even the upcoming Train-7 project is in Finima, so do we need to fight before we are recognized?
"We are calling on the federal government to call NLNG to order. Let them obey the Nigerian laws as stipulated in the NOGICD Act
"We have graduates and MSc holders from Finima community working as cleaners in NLNG. Scholarships are not given to us. Everything is going to Bonny. Out of 250 scholarships every year, only one or two will come to Finima"
Meanwhile, youths allegedly from Bonny Kingdom also staged a counter-protest against the protesters from Finima community and disrupted the process.
The counter-protesters who attacked and unleashed mayhem on the Finima protesters, critically injured nine people, destroyed shops, over seven vehicles, while setting ablaze a bus belonging to Finima Youths Congress.
One of the injured victim, Mr. Princewill Brown, accused the traditional leaders in Bonny of sponsoring the youths against the peaceful Finima protesters.
"Thank God the media was there with us in the morning and they saw that the protest was peaceful. We were only peacefully and lawfully demanding for our rights.
"Before we knew it, hoodlums from Bonny heavily armed with matches, guns and bottles came and attacked us."