24 February 2015, Abuja – Minister of Power, Prof. Chinedu Nebo, has said a few of the power plants constructed and commissioned under the National Integrated Power Projects (NIPPs) now contribute 2500 megawatts (MW) of electricity to the national grid.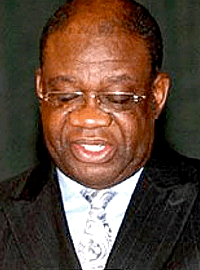 Nebo said this at the commissioning of the 750MW Olorunsogo Phase-2 NIPP plant in Ogun State by President Goodluck Jonathan.
The minister noted that while other traditional power plants that were privatised in the government's power reforms exercise were already gaining back their nameplate generation capacities following their refurbishments by their new owners, the commissioned NIPP plants were already contributing that much.
The government has only commissioned the 434MW Geregu and 500MW Omotosho power plants in Kogi and Ondo states, respectively.
Nebo however said: "Today, NIPP contribution to the national grid stands at about 2,500MW on regular basis as efforts are being made on the part of privatised generation companies to revamp their generation units, increase available generation capacity with a view to achieving a more robust power generation profile for the country."
On the privatised power plants, he explained: "Ughelli power plant, which at the time it was privatised in 2013 was barely able to generate 160MW is today capable of generating 610MW, with a target of 850MW by end-2015.
Egbin power plant has succeeded in recovering all its installed capacity of 1320MW with the installation a new 220MW turbine."
He stated that Kainji hydro power plant with one unit working upon takeover at 80MW has today improved to 150MW and will add another 80MW to bring its capacity to 230MW in the next two weeks.
The World Bank, he said will also complete its retrofitting on three more units of Kainji to add 340MW to its capacity by end of March, while Jebba power plant with original capacity of 450MW will add another 96MW to its capacity after an ongoing retrofitting.
He also said that Shiroro will have its fourth unit added to upgrade it to 600MW.
On the challenges of gas supply to power plants due to constant vandalism of pipelines, Nebo said: "Currently, the major challenge to increased power generation is limitation in gas supply as a result of the activities of vandals who are bent on visiting hardship on the entire nation."
"This is despite the fact that unprecedented collaboration between the ministries of power and petroleum resources has resulted in significantly more gas being made available for power generation.
Whilst a lot has been done to implement security measures to dissuade these enemies of national progress, it behooves on all Nigerians to do more to co-operate with security agencies in a bid to oust these vandals and bring them to justice.
Their activities have wreaked untold havoc on our efforts to drive darkness away from our land," he explained.
– This Day