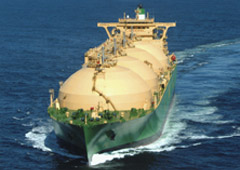 02 April 2012, Sweetcrude, LAGOS – Nigerian insurance brokers are currently srambling for a N2 billion Nigeria Liquefied Natural Gas (NLNG) insurance programme, provided by the Nigeria LNG Limited as a window of opportunity for local players in the Nigerian insurance sector.
The insurance package covers NLNG's operational insurance policy, general third party liability policies, group life assurance policy, group personal accident policy, comprehensive motor insurance policy, fire and allied perils policy, including occupiers' liability, electronic equipment insurance policy and local marine policy.
Mrs Laide Osijo, president, Nigerian Council for Registered Insurance Brokers (NCRIB), who confirmed the development, stated that brokers are preparing their papers to draw from the opportunity provided by the programme.
Stressing that Nigerian brokers have the capacity to provide for all types of oil and gas risks, Osifo said the recently intoduced Local Content Act has created great opportunities for players in the insurance sector, including bokers.
According to Tunde Oguntade, president, Lagos Area Council of NCRIB, the opportunity provided by the NLNG is good for brokers.
He discosed that having successfully bided for the Nigerian National Petroleum Corporation (NNPC) insurance, brokers are determined to make a huge success of the NLNG opportunity.
He maintained that involvement of brokers in the oil and gas business would help them boost their capacity and growth, stating that the operators are eyeing the 70 per cent local participation provided for by the Local Content Act.
"We are looking at 70 per cent as stated in the law. That means that 70 per cent premium that used to go outside the country in the past, now has to be with local underwriters and brokers. This would enable us improve on our capacity, train, source good rates and do corporate social responsibility," he said.