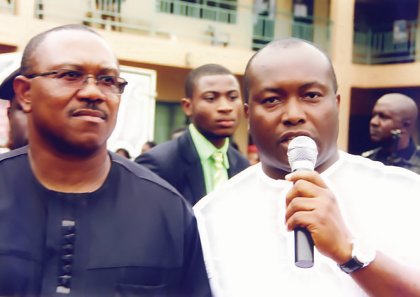 The Nigerian National Petroleum Corporation (NNPC) Retail Limited in conjunction with Capital Oil and Gas Industries have extended direct sale of kerosene to Kaduna and Imo States under their Kero Direct initiative aimed at tackling the current scarcity of the product across the country.
The scheme was launched in Kaduna, Imo and Anambra states at the weekend.
The KeroDirect scheme entails the direct sale of kerosene to consumers at the rate of N50 per litre via ultra modern mobile dispensing with the NNPC supplying the products while Capital Oil provides the trucks.
In Kaduna, the convoy of kerosene trucks was on parade at a field inside the old site of the Nigerian Defence Academy where the scheme was launched with thousands of civilians and military personnel in attendance.
Governor Ibrahim Yakowa of Kaduna State thanked the NNPC and Capital Oil for the initiative and pledged the commitment of his administration to working with operators of the scheme in ensuring it is extended to other parts of the state.
Also speaking at the launch, Major General Emeka Onwuamaegbu, Commandant of the Nigerian Defense Academy, expressed optimism that officers and soldiers within the domain can now concentrate on their core duties with the availability of kerosene in the Cantonment. The product was also deployed to the Murtala Mohammed Square at the Centre of Kaduna metropolis where direct sale of kerosene to residents commenced.
The KeroDirect scheme was also launched in Anambra and Imo states at the weekend.