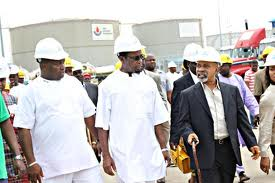 18 December 2011, Sweetcrude, LAGOS – The second phase of the Nigerian National Petroleum Corporation (NNPC) and Capital Oil and Gas Limited kero-direct scheme (KDS) has generated an additional 2,000 direct employments for Nigerians, Mr Ifeanyi Ubah, Managing Director of Capital Oil and Gas has said.
The News Agency of Nigeria (NAN) quoted Ubah as saying in Lagos that the second phase of the scheme had made the company to employ 765 youths.
According to him, an additional 1,035 persons are penciled down for employment before the completions of the distribution.
He said that the scheme which began in eight states was put together by the Nigerian National Petroleum Corporation (NNPC) in partnership with Capital Oil and Gas to supply kerosene directly to households.
Ubah, who assured that middlemen would not hijack the scheme, said the sale would be restricted to 25 litres per household.
"Capital Oil has been very concerned about the difficulty facing Nigerians in getting kerosene for domestic use.
"It is in response to this that the company came up with this innovation of deploying mobile filling stations with standard dispensing pumps to sell kerosene at N50 per litre to Nigerians.
"The scheme will give our people access to the product with a view to reducing the use of charcoal and firewood, which are hazardous to health," Ubah said.
He lauded the initiative of the Minister of Petroleum Resources, Mrs Diezani Alison-Madueke, and the NNPC, for their intention to provide kerosene to end-users through truck dispensing.
Ubah said that the challenge of ending kerosene scarcity and ensuring uninterrupted supply would be handled through consistent investments in infrastructure.
The scheme, which began in Amuwo-Odofin and Apapa Local Government Areas of Lagos State in July has been extended to some other parts of the country.
Under the arrangement, the Pipelines and Products Marketing Company, a subsidiary of the NNPC provided the product for sale to consumers at N50 per litre, using Capital Oil's dispensing trucks