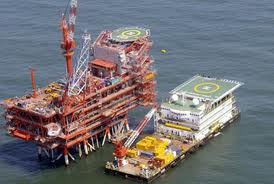 10 February 2012, Sweetcrude, HOUSTON – The Nigerian National Petroleum Corporation (NNPC) and ExxonMobil Corporation, the world's largest energy company by market value, are seeking a $1.5 billion loan for a joint venture to develop offshore oil fields in Nigeria, according to Bloomberg reports.
Standard Chartered Plc and South African lenders, Standard Bank Group Ltd and Nedbank Group Ltd, are among the banks involved in the deal, which is due to be signed in the next few weeks, the Blomberg further reported, quoting sources, who declined to be identified because the terms are private.
Sweetcrudereports could not ascertain whether this loan is the same $1.5 billion, five-year amortising restructuring syndicated loan the NNPC was reported to have been making plans, in the last quarter of 2011, to secure from international lenders. Information from Thomson Reuters had indicated then that the deal would mark NNPC's first internationally-syndicated loan.
Mentioned in connection with arranging that loan were BNP Paribas, Standard Bank and Standard Chartered.
Dr Levi Ajuonuma, NNPC spokesman, did not answer calls seeking comment on the latest report while ExxonMobil's Nigerian spokesman, Nigel Cookey-Gam, could not be reached by telephone and did not respond to an e-mail.
Nigeria is Africa's top oil producer and the fifth-biggest source of U.S. crude imports.
ExxonMobil, Royal Dutch Shell Plc, Chevron Corporation, Total SA and Eni run joint ventures with NNPC that pump more than 90 percent of Nigeria's crude.
ExxonMobil subsidiary, Mobil Producing Nigeria Unlimited, is the second-largest oil producer in the country, according to the company's website.