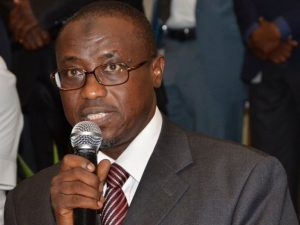 OpeOluwani Akintayo
01 November 2017, Sweetcrude, Lagos — The Nigerian National Petroleum Corporation, NNPC, has responded to fears and criticisms over its recent declaration that it was investing in exploration for crude oil in the Inland Basins, particularly  in Nassarawa state.
In a statement signed by the corporation's Group General Manager, Group Public Affairs, Ndu Ughamadu on Tuesday, NNPC expressed confidence that the aggressive exploration of the inland basins being driven by the corporation, would soon yield success with hydrocarbon finds in commercial quantity.
According to the statement, based on preliminary results from the exploration activities in the inland basins so far, especially the Benue Trough, there was a strong indication that commercial quantity oil and gas finds would soon be made.
Almost 400 square kilometer, 400km² of 3D seismic data had been acquired in the part of the Benue Trough that was earlier explored by Shell Nigeria Exploration and Production Company, SNEPCO, adding that similar work would be extended to areas previously explored by Chevron and Total.
"We are targeting these areas because we have seen that some of what they have done has some prospects, it is only that they did not drill deep enough. They also did not target the areas we believe, from the review of the seismic data, would have culminated into a find.
"So, we are reinvigorating that and soon we are going to start drilling some of the leads that we have seen to ascertain what prospects there are. And as we have pointed out, there is an indication that we could find some hydrocarbon, we believe that in the nearest future hydrocarbon will be found in commercial quantity", the statement read.
NNPC said it was ready to deploy capabilities within and outside the corporation, to ensure success of the inland basins exploration campaign.
During the Group Managing Director of the corporation, Dr. Maikanti Baru's visit to the Governor of Nasarawa State, Alh. Umaru Tanko Almakura in Lafia last week, announced that a fresh oil search in the inland basins had begun.
According to Baru, the visit was in fulfillment of the presidential mandate which directed NNPC to resume oil exploration activities in some of the nation's inland basins which include the Chad Basin and the Benue Trough.
He said the presidential mandate was driven by the urgent need for the Nation to increase its oil and gas reserves, thereby improving revenue streams and creating more business and employment opportunities for Nigerians.
Dr. Baru added that the move was also in line with NNPC's corporate vision of 12 Business Focus Areas, 12 BUFA.