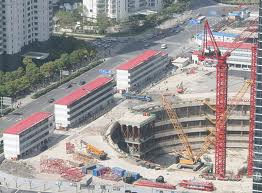 06 April 2012, Sweetcrude, LAGOS – The Nigerian National Petroleum Corporation (NNPC) says the new 31-kilometre gas pipeline it is constructing to supply gas to the Olorunsogo power generating plant in Ogun State will be ready for operation next month.
David Ige, NNPC's Group Executive Director, Gas, made this known during a visit to the site of the 24-inch gas pipeline project at Itoki, Ogun State.
The new pipeline will provide gas to the 700megawatts (mw) capacity power generating plant, to enable it attain its capacity and improve power supply to the national grid. The plant currently generates about 150mw.
Ige, who was accompanied on the visit by the Managing Director, Nigeria Gas Company (NGC) Muhammed Saidu, and the Group General Manager, Public Affairs, Dr. Levi Ajuonuma, said the project was necessitated by the fact that the old pipeline from Ewekoro is of small diameter while its gas pressure is inadequate to support the turbines at the Olorunsogo plant.
He said the project originally billed to be completed in 12 months is being completed within six to seven months by the contractor, Jaihind Morpol.
According to him, the contractor broke the record as it achieved about 109 joints and welds per day, a feat, which is quite unprecedented in the industry and which made it possible to finish the job in record time of six months.
He stated that what is now left are some gas equipment such as the pig launcher and receivers, which are being airlifted due to the urgency in the completion of the project.
Once the pipeline project is completed, Ige said, gas would be supplied through the pipeline to fire the plant, which is to add about 400mw to the national grid.
He said: "Once we are done with this project, we will be providing additional gas to the pipeline to supply gas to Olorunsogo.
"We are expecting about 800 million standard cubic feet (mscf) of gas from Chevron. We are equally expecting other volumes of gas from NPDC and these are due in the next two months.
"We are going to inspect the gas supply pipeline from Gbaramatu on the Excravos-Western line, which is to provide gas to Itoki Natural Gas Export Terminal.
"Once this is achieved, the major infrastructure bottleneck in the supply of gas to Olorunsogo would have been solved and the plant will be able to perform up to its installed capacity."
Ige said that out of the four turbines in Olorunsogo, only one is currently working due to the shortage of gas to the plant.
The other units, he said, would be ramped up once the outstanding challenges are resolved in the next few weeks.
The Engineering Manager, Jahind Morpol, Felix Ayejunikanwa, said that with great determination and the right spirit of the workforce, the company was able deliver the project with almost 100 percent local content and in record time.