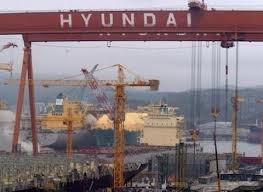 04 January 2013, Sweetcrude, Houston – South Korean engineering firm Hyundai Heavy Industries (HHI) said Friday a final decision on the award of a floating production, storage and offloading vessel contract for the Egina deepwater oil field offshore Nigeria had not yet been made despite the provisional award of the contract to rival Samsung by the NNPC management.
It was gathered that the NNPC Board, chaired by Diezani Alison-Madueke, the minister of petroleum is expected to meet on Monday to take a final decision on the award.
HHI said it was keeping a close eye on developments surrounding the award of the contract, which had originally been earmarked for award to HHI.
"The final decision has not been made yet," an official at HHI said Friday.
"HHI was picked as a preferred bidder for the Egina project deemed significant to us," he said.
Samsung declined to comment Friday.
France's Total, the operator of the field and state-owned Nigerian National Petroleum Corp. are currently in dispute over the award of the FPSO contract to Samsung after it was originally awarded to HHI.
Sources have told Platts that a team of officials from Total and NNPC subsidiary the National Petroleum Investment Management Services in late December approved the award of the FPSO contract to HHI for $3.8 billion, but NNPC chose Samsung whose bid was 5% less than the approved cost.
NNPC said in mid-December that further development plans on the Egina field, along with the Erha North deep offshore field operated by ExxonMobil, were on hold to allow for a comprehensive review of the economics.
Sources close to the project said the review would end up hampering progress on developing the highly prospective field.
Egina, Total's third deep offshore development in Nigeria, lies in OML 130 and near the Akpo field.
Total, which holds 24% equity in the field, began putting in place plans to commence drilling at Egina late last year, with a 2014 target date for the start of production.
The Egina field is expected to reach peak production of 150,000 b/d.