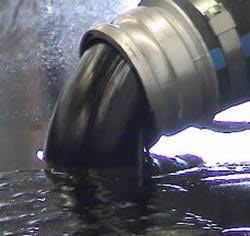 27 August 2012, Sweetcrude, ABUJA – THE Nigerian National Petroleum Corporation, NNPC, has been directed by the government to intensify oil exploration in the country's Frontier Inland Basins, Minister of Science and Technology, Prof. Ita Iwa,, has said.
The minister stated this in Abuja, Monday, at the opening ceremony of a two-day summit on the Nigerian Frontier Inland Basins, organised by the Energy Commission of Nigeria, ECN, in conjunction with the National Centre for Petroleum Research and Development, NCPRD.
The Minister said President Goodluck Jonathan gave the directive in line with the aspiration to shore up national crude oil production capacity and bolster the nation's proven oil and gas reserves.
He said, "This administration intends to boost the country's oil and gas reserve from its current level of 37 billion barrels of oil and about 187 trillion cubic feet of gas."
Iwa said in compliance with the president's directive, NNPC, through its subsidiary, Integrated Data Services Limited, in collaboration with China National Petroleum Company, had deployed the latest technology in the hydrocarbon business.
"The technology is to locate the possible areas, where there is sufficient hydrocarbon in the Nigerian portion of the Chad Basin.
"There is an on-going effort by the corporation to put finishing touches to a comprehensive framework designed to herald the intensification of exploration activities in the Nigerian portion of the Chad Basin.
"Interest in this basin is hinged on the discoveries of commercial hydrocarbon deposits in Chad, Niger and Sudan, which have similar geological formations," he said.
Iwa, represented by Dr A. A. Talabi, Director, Technology Acquisition and Assessment in the ministry, said that to increase Nigeria's proven oil reserve, the search for hydrocarbon must not be restricted to the Chad Basin.
He further said, "It must involve extensive search in the entire Nigerian frontier inland sedimentary basin, which include the Benue Trough, Anambra Basin, Sokoto area, Bida Basin and Dahomey Basin."
He advised that the on-going efforts by the NNPC's New Frontier Exploration Services Division, leading the search of crude oil in the inland basins must be sustained for it to realise its objectives.
The minister also observed that the previous exploration efforts in Nigeria frontier inland basins had so far yielded no significant results in spite of the fact that those basins showed signs of possible hydrocarbon deposits.
Prof. Abubakar Sambo, the Director-General of Energy Commission of Nigeria stressed the need to continue to search for more oil and gas to add to the national reserves.
This he said would increase the foreign exchange earnings and meet the vision 20-20:20 aspiration of Mr President Transformation agenda.
According to him, the opening of the inland basins will no doubt result in new reserve discoveries and afford interested entrepreneur room to grow.
"It will also give them the room to collaborate and engage in profitable business alliances and economic empowerment, as well as diversify petroleum sources for national development," he said.