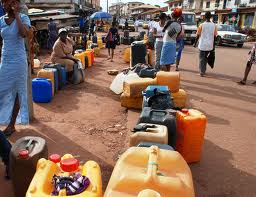 30 March 2012, Sweetcrude, ABUJA – The Nigerian National Petroleum Corporation (NNPC) has warned kerosine consumers to avoid patronising roadside hawkers of the product to avoid adulterated stock that could lead to explosion.
Group General Manger, Public Affairs Department of NNPC, Dr Levi Ajuonuma, the gave the warning on Friday in Abuja.
"We want to appeal to Nigerians to ensure they buy the product (kerosine) from designated outlets and filling stations to avoid adulterated product that could lead to explosion."
Assuring that the kerosene imported into the country was standard and of high quality, he stated that any case of explosion might be an isolated case as a result of adulteration by hawkers.
Ajuonuma decried the nefarious activities of adulterators of petroleum products and urged consumers to be wary of them.