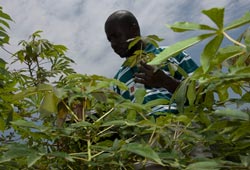 Wole Mosadomi
17 March 2013, Minna — Research institutes' workers across the country, who have been on industrial strike for about three months, have vowed not to resume work until their demands were fully met.
Their demands include 53.37 percent increase in their salaries, payment of allowances, including those for high risk, stress and strain hazards.
They are also asking for their retirement age to be increased to 65 years; proper funding of their institutions and the establishment of National Agricultural Research Institutes Commission, NARICOM.
Branch Chairman of the Non-Academic Staff Union of Education and Associated Institutions of the National Cereal Research Institute, NCRI, Badeggi, Niger State, Alhaji Baba Umaru, spoke with Vanguard.
He said in an interview that since the resolution of the outstanding issues with the government had failed, the workers had no alternative than to continue with their indefinite strike.
He explained that the workers' union had reached several agreements with the government over the issues, adding that none of such agreements had ever been implemented.
He said: "We went on a warning strike last month. We had to go on strike in 2011 before six months of outstanding arrears could be paid and after series of failed meetings, we now concluded that government is just trying to play on our intelligence, which we will not accept again."
Umaru disclosed that government had also stopped payment of salaries of workers of the various institutes across the country based on Gazette of 1976.
He added that this was why the institutes were now demanding for the recognition of their new union, NARICON, to take care of their welfare, among others.
He said: "The present development clearly shows that government is looking down on us. Research institutes should be taken more seriously to make progress and have a breakthrough in science and technology."