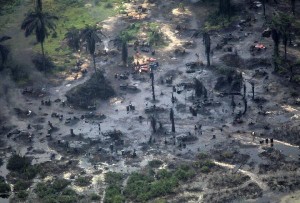 27 August 2014, Abuja — The Chairman of the Governing Board of the National Oil Spill Detection and Response Agency (NOSDRA), Lancelot Anyanya has said Niger Delta communities are paying huge price to sustain Nigeria's oil and gas production in the area.
Anyanya, a retired major in the Nigerian Army, stated this when he led a delegation from NOSDRA to assess the impact of oil spills in Omoku area of Rivers State.
He noted during a courtesy visit to the Oba of Ogbaland, Eze Chukwuemeka Nnam Obi that the people of the region are facing ailments that were not known to the area before exploration began.
He noted further that Omoku and Ogbaland were among the areas in the Niger Delta that had suffered extensive ecological damage as a result of oil spills.
According to him, "Across the Niger Delta, negative medical conditions hitherto, unknown to the locality are being observed due to colossal environmental degradation from oil spills. That is a huge price for anyone to pay for the prosperity that people are enjoying in and out of Nigeria because of our oil".
The NOSDRA Chairman thanked President Goodluck Jonathan for reorganizing and bolstering NOSDRA's corporate governance through which the agency is now improving its community relations with oil producing communities.
He attributed the feat to Mr. President's belief that "no community or individual should suffer any more of those indignities because Nigeria produces crude oil. This is why NOSDRA is engaging with oil producing communities."
Anyanya commended the traditional ruler for his exemplary and selfless leadership, while briefing him and the council of chiefs on the activities of NOSDRA, including visiting host communities affected by oil spills to engage and educate them on oil spill prevention.
–  Daily Independent