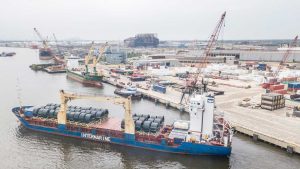 – Commence work at submerged breakwaters
Vincent Toritseju
Lagos — The Nigerian Ports Authority, NPA, has said it will continue to berth vessels at the Warri while carrying out reconstruction works on the Escravos breakwaters.
In a statement signed by the Managing Director of NPA, Mr. Mohammed Bello-Koko assured stakeholders that survey and mapping of the channel and is at conclusive stages of securing relevant approvals for the best financing option to fund the reconstruction of the infrastructure.
The NPA boss also said that the agency has put mitigants in place to ensure safe berthing of legally operating vessels in the spirit of trade facilitation.
Bello-Koko said "An up-to-date local and international training, simulation and maneuverability competence with a view to building a team of highly experienced pilots of ensure zero incidence of vessels running aground and enabled the safe berthing of inbound vessels MT Zonda and MT Stellar and outbound vessel MT Duke, MT Vardar and MT Igbinosa, with six (6) vessels at anchorage outbound and inbound for Bonny Island, Koko and Escravos.
"Taking cognizant of peculiarities of the Warri channel, the Authority had procured and installed adequate buoys for Warri, realigned the entrance buoys, docked and reclassified vessels, stipulated frequent simulation training and retraining for all the pilotage crew to enable them respond to the exigencies of the channel.
"The occasional reported incidences of vessels running aground cannot impede the channel as they are vessels operating illegally without NPA Marine Pilots onboard and ran aground only because they veered off the channel and safety marked areas due to incompetence.
"To enhance its domain awareness capability to detect and frontally keep illegal vessels at bay, the Authority recently awarded consultancy for the installation of Vessel Traffic Services (VTS) across all its Port locations, and the first phase is already completed.
It will be recalled that the Authority had recently acquired and deployed security patrol boats and intensified its collaborations with relevant security agencies to stem the activities of such illegal vessels whose activities result in such breaches.
"Whilst we are working assiduously under the guidance of the Ministry of Transportation and Federal Government to sustainably and comprehensively address the challenges of all Delta Ports, we have put measures in place to ensure nothing impedes business continuity for all those operating within our safety and security rules."
Follow us on twitter