Godwin Oritse
Lagos — THE Nigerian Port Consultative Council, NPCC, has warned against the use of Sub-standard barges for cargo evacuation at the newly constructed Lekki Deep Seaport saying that "deep sea barges are different from river port barges.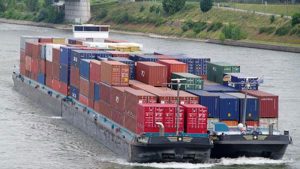 Speaking at the just concluded quarterly meeting of the NPCC held in Lagos, a Council member, Captain Ihenacho Ebubeogu, said that only barges for deep sea transshipment should be allowed to operate at the Lekki port if not there will many water accidents that could lead to the loss of cargoes.
Ebubeogu also said that the distance from Lekki port to Lagos Port harbour is about 45 kilometres adding that operators should not take such distance for granted as anything can happen.
He said: "requirements for deep sea barges and tugs are different from the ones operators use around the Lagos harbour and Ikorodu lighter terminal.
"The barges for Lekki port should be deep sea barges and tugboats. If the use of these barges is not standardized, people will just rush and go there and carry cargo and before you know it, we will start having mishaps.
"The one for deep sea barges for transshipment should be qualified as seaworthy barges and tugboats for deep sea because there is no way you can come by sea from Lekki to Lagos harbour without transiting at least 45 kilometres, let people don't take that distance for granted because anything can happen in-between.
Ebubeogu who retired from the Nigerian Ports Authority as General Manager, Marine and Operations also warned if a proper cargo evacuation system was not put in place, the Apapa Traffic situation could be repeated in Lekki.
Recall that the issue of cargo evacuation became a source of worry for operators as the roads leading to the Lekki Deep Seaport as this could worsen the already bad traffic situation in that axis.
Already, the managers of the deep seaport are in talks with barge operators on how cargoes can seamlessly be evacuated from the Port.
Follow us on twitter