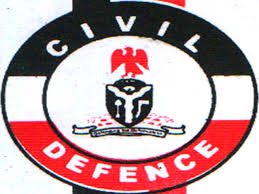 22 September 2014, Yenagoa- The Nigeria Security and Civil Defence Corps, Bayelsa State Command, has arrested a 60-year-old mother of 15 children for offences bordering on crude oil theft.
The suspect, identified as Victoria Sorkibulor, popularly called Mama Militant, was arrested at Fish Town, Southern Ijaw Local Government Area by a special team of the corps.
Sorkibulor was on Monday paraded at the command of the NSCDC in Yenagoa alongside two of her workers and two other suspects apprehended by the command for pipeline vandalism.
Sorkibulor was said to be notorious for pipeline vandalism and illegal refining of petroleum products.
Her workers were said to have led the security operatives to her hideout at Fish Town where she was rounded up and brought to Yenagoa.
Parading the suspects, the state Commandant, NSCDC, Mr. Desmond Agu, said the suspects were arrested for unlawful possession of adulterated and illegally refined  petroleum products.
He said 20 drums of illegally refined kerosene and Automated Gas Oil were confiscated from the suspects.
He said Sorkibulor was arrested shortly after her workers were rounded up while evacuating their illegally refined product in a large wooden boat.
He said while the boat was burnt at the point of arrest, the products were recovered for further investigations and prosecution.
The Commandant said all the suspects were arrested on Sunday night at different locations in Southern Ijaw area of the state.
He gave the names of other suspects as Goodnews Kurai, Babangida James, Daniel Sokebolou and David Ayibadigenmi.
Agu said six Yamaha machines, three pumping machines, seven hoses and a locally-made boat were recovered from the suspects.
He vowed to prosecute the suspects, stressing that the NSCDC was determined to stop oil theft and other related crimes in the state.
Agu said, "We are warning members of the public to desist from such inimical act. People should think of a better and lawful ways of earning a living.
"We are not going to rest on our oars until we fight illegal oil bunkering and pipeline vandalism to a standstill."
Reacting to the allegations, Sorkibulor confessed that she was formally into illegal oil theft including establishing illegal refineries.
She, however, claimed to have repented before her arrest.
= The Punch