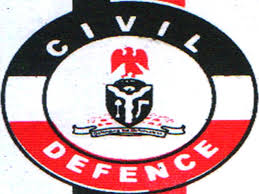 25 April 2014, Lagos – The Nigeria Security and Civil Defence Corps, Lagos State Command, has arrested two boat operators for allegedly selling petrol obtained from vandalised pipelines.
The suspects were also said to have attempted to bribe some NSCDC men with N40,000.
The state commandant, Mr. Clement Adesuyi, said that the suspects, Abu Idris, and Kunle Ayandokun, were arrested in the Coconut area of Apapa, Lagos.
Adesuyi said that 66 jerry cans, each containing 50 litres of petrol, were recovered from the suspects.
He said: "We arrested the two suspects around the creeks in Apapa. Three speed boats belonging to the suspects were impounded with 66 kegs of petrol. Investigations are ongoing and they will be prosecuted."
Adesuyi urged Lagosians to continue to give the corps information that will lead to the arrest of pipeline vandals.
The commandant said the N40,000 allegedly offered as bribe had been registered as exhibit.
The suspects, however, told reporters that they were not pipeline vandals, but boat operators.
Thirty-three-year-old Ayandokun said: "I am not a pipeline vandal. I am a speed boat operator and I also sell engine oil at Coconut. In addition, I am a member of the Maritime Workers' Union. Some people store and sell fuel where I operate, but I don't relate with them.
"On Sunday, some NSCDC men stormed our area in a bid to arrest pipeline vandals, but the men, who usually sell fuel, immediately jumped into the water and swam away. Civil defence men then entered my boat and told me to help them chase the fleeing suspects.
"When they could not get the suspects, they loaded some of the stolen fuel onto my boat and told me to take them to Iddo. On getting to Iddo, they said I was among the pipeline vandals and put handcuffs on me."
– Ifeyinwa Obi, Vanguard