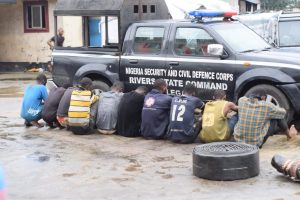 – Impounds 28,225 litres of AGO
Mkpoikana Udoma
Port Harcourt — The Nigeria Security and Civil Defence Corps, NSCDC has paraded 10 suspects for pipeline vandalism, oil theft and illegal dealings in petroleum products and other miscellaneous crimes in Rivers State.
NSCDC Commandant in Rivers State, Basil Igwebueze, said the suspects were arrested in different parts of the state with 44 metal pipes, 23 drums of AGO, eight saloon cars laden with illegally refined AGO concealed in sack bags, 26 jerrycans filled with AGO, 1,000metres industrial pumping hose and three cylinders filled with nitrogen gas.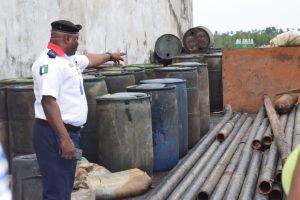 Igwebueze noted that he was deployed by the Commandant General, Dr Ahmed Abubakar Audi, to Rivers State to prosecute the Corps' mandate in safeguarding all critical national assets and infrastructures, training, supervision and monitoring of the private security companies, disaster management, amongst others.
He called for strong collaborations with other security agencies to ensure effective discharge of the NSCDC statutory mandate, saying that a failed security system was tantamount to failed intelligence, hence the success of any security operation was a function of actionable and credible intelligence.
"Five suspects; Aniebiet Pascal (M) 22years, Nnadi Ogbonna (M) 23years, Ifeanyi Delight (M) 25years, Sunday Benjamin (M) 22 years and Okechukwu Finbar (M) 20years were apprehended by 29 Battalion Nigerian Army Port Harcourt with 44 metal pipes, four cylinders containing nitrogen gas, one wooden boat with 25 horsepower engine along Kryo Community near Alakiri waterways in Okrika Local Government Area of Rivers State.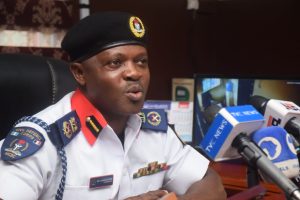 "Five other suspects were also arrested with three motorcycles, two wheelbarrow filled with AGO and 1,000 meters large industrial pumping hose. They were arrested and handed over to NSCDC Rivers State Command by the Intelligence Unit of 6 Division Nigerian Army Port Harcourt for further investigation and possible prosecution.
"The Anti-vandal Unit of the Command while on routine patrol at MotherCat roundabout, Trans Amadi in Port Harcourt also impounded the following vehicles being abandoned by suspects who are currently being trailed by our undercover personnel; A Toyota Camry with number plate Rivers AJ770DBU laden with illegally refined AGO concealed in cellophane bags, a Futon bus Ebonyi XA637BKL laden with eight plastic drums of illegally refined AGO.
"While on routine patrol, the Command's Anti-vandal Unit further impounded seven cars; A Toyota Camry with number plate Lagos LND926AP, Toyota Avalon Lagos EKY487DA, Toyota Corolla Rivers GGU240AA, Toyota Avalon Lagos APP330DE, a Toyota Avalon with plate number Akwa Ibom KET62AV, Toyota Avalon Lagos AKD938AV; all laden with illegally refined AGO concealed in cellophane bags. We also impounded 15 drums of AGO, 26 concealed sacks filled with AGO and 11 kegs of AGO."
The NSCDC boss in Rivers State further disclosed that investigation has commenced after which the suspects would be charged to Court, while the products and vehicles would be forfeited, and proceeds remitted into the federal government coffers.
He warned unrepentant oil thieves and those engaged in illegal oil bunkering to desist from such act, assuring that he will not relent in ensuring that criminals face the full wrath of the law.