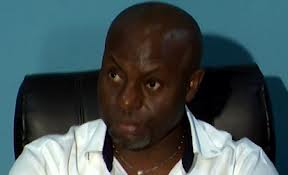 07 June 2013, Lagos – The Nigeria Union of Petroleum and Natural Gas Workers, NUPENG, has issued the Federal Government a 14-day strike notice over unresolved disputes with three oil companies – Shell Petroleum Development Company, SPDC, Chevron Nigeria Limited and Nigerian Agip Oil Company.
Giving the notice of strike at a press conference, Thursday, in Lagos, NUPENG President, Achese Igwe, said the indefinite nationwide strike would commence if the government failed to intervene on the matter at the expiration of the ultimatum.
He decried unfair labour practices by multinational oil companies operating in the nation, pointing to SPDC, Chevron and Agip, who he accused of inflicting inhuman treatment on Nigerians, as the greatest culprits.
According to him, an agreement had been reached with the multinational companies at a meeting called by the Minister of Labour and Productivity, Chief Emeka Wogu, in May 2012.
Failure to implement the resolutions at the meeting, on the part of the oil companies, he said, has necessitated the need for action by the oil workers.
Igwe accused Agip Oil of terminating the appointment of 93 contract workers that had worked between 25 and 35 years, without benefits despite a directive by the Ministry of Labour and Productivity to the contrary.
He hit Chevron for not only converting workers from contract labour to service labour but refusing them the right to collective bargaining agreement and to unionise.
Contract workers in Agip, according to him, were currently on strike in Port Harcourt, and if the issue was not resolved as soon as possible, it would lead to a national strike because of the issues in SPDC and Chevron.
Igwe further said: "We can no longer fold our arms and allow fellow Nigerians to be enslaved in their country. Before now, Chevron had what was called the big six contractors paying over 1800 workers.
"Some of the workers had worked for over 30 years and were unionised. Suddenly, Chevron terminated their appointments and said it was rolling them over.
"Before we knew what was happening, Chevron balkanised the six contractors into 16 contractors and brought back these workers under service labour, refusing them to be unionised and denying them other rights.
"Under the service labour, their jobs are no longer safe, meaning they can be sacked any day without notice."
For Agip, he stated that 93 contract workers were sacked without paying them terminal benefits. "These workers were interviewed and employed by Agip and handed over to contractors to be paying them. Some of them had served the company for over 30 years.
"When the issue was reported to the Ministry of Labour in Port Harcourt, Agip was directed to pay their terminal benefits. As we speak, it has refused," he said.
He added: "Apart from that, Chevron also promoted 96 contract workers who were NUPENG members to PENGASSAN contract staff instead of converting them to permanent staff having spent over 15 years as contract workers.
"Presently, the contract staff are on strike, and any moment from now, it will snowball into a nationwide strike.
"We are giving the Federal Government, the Ministry of Petroleum, the National Assembly among other well meaning Nigerians and groups, a 14-day ultimatum to intervene and summon an all embracing stakeholders national conference to address all labour issues in the industry failing which, we will declare an indefinite nationwide strike".