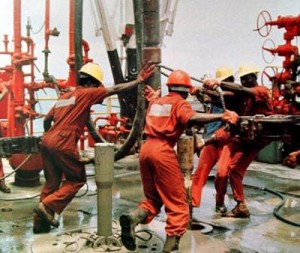 Elounye Koyeghaehi
27 May 2013, Sweetcrude, Lagos – NIGERIA Union of Petroleum and Natural Gas Workers, NUPENG, decried increasing casualisationand outsourcing of workers in the nation's Oil and Gas industry and vowed to fight all forms of unfair labour practices in the Petroleum industry.
Similarly, the union warned that unemployment not only remain a time bomb, but also serious threat to Nigeria's stability and survival.
Speaking in at a special Delegates Conference of the union in Lagos, President of NUPENG, Achese Igwe, said "The issue of unemployment has become cancerous and eating up everybody. All hands must be on deck to provide jobs for our youths, before the bubble bursts. In this regard, skill acquisition centres must be built, with empowerment schemes, so that our youths can be self employed. The issue of casualisation/outsourcing has been with us for some time now. The union vehemently kicks against this modern day slavery, as employers in the oil and gas industry, especially the multinational oil companies are the most guilty. The attempt by Chevron Nigeria Limited to convert the big 6 labour contractors to service contractors was vehemently resisted by the Union. At the end, another 16 contractors were appointed but the Union ensured that all the workers were migrated and their severance benefits paid to them. We will continue to fight it and make sure that our members enjoy good condition of service. We will not rest on our oars in the fight for unionisation of our members, as it is their inalienable right to associate, organise and negotiate collectively."
On the state of the nation's refineries, he said "It is a sad commentary that the nation's four refineries are still in comatose. They are not working at optimal capacity. The turn-around­ maintenance, TAM, is only on paper. We continue to import petroleum products to the detriment of our economy. We call on the federal government to fix the refineries to reduce importation and even establish new ones."
"At this juncture, we wish to commend the decision of Alhaji Dangote to build a 400,000 barrel per day refinery in the country which he said will come on stream in three years time. We hereby call on the federal government and other wealthy Nigerians to invest in the refinery sector to create jobs for our teeming unemployed youths and stop the importation of petroleum products. The issue of illegal refineries and oil theft is very rampant in the Niger Delta. The federal government should assemble these refiners and give them further training and establish legal refineries for them to work in, in the regions, instead of chasing them around the creeks and destroying their tools. This will go a long way to reduce unemployment and restiveness in the area."
"The union is not happy at the attitude of some unscrupulous Nigerians who take delight in vandalising oil pipelines for pecuniary gains. It has robbed the nation of billions of dollars that should have been used for development in addition to environmental degradation and pollution. We call on the federal government to establish a pipeline protection agency that will be saddled with monitoring, protecting and salvaging the over 5000 kilo metres stretch of pipelines that traverse the nooks and crannies of this nation."
Lamenting the protracted Petroleum Industry Bill, PIB, the union called "on the law makers to ensure a quick passage, after looking at the grey areas with objectivity, especially on labour issues of gratuities, pensions, transfers and status of our members in new companies that will emerge."
Recalling some of the achievements of his administration, Igwe said "During the period under review, my administration acquired zonal offices in Port Harcourt, Warri, and Lagos, which is due for commissioning soon. The Kaduna property has also been identified and payment will soon be made. We also bought operational vehicles for the Secretariat and four zonal councils for efficient administration and mobility. The National Secretariat in Jibowu is presently undergoing a face-lift to give it a new status. On Education and training, I am happy to declare that all National Executive Council, NEC, members attended overseas training courses in Dubai, London and Houston in the United States of America.
"We are starting another batch this year, precisely in May, 2013. We are pr.oud to announce that some of our NEC members will go to the United States for a course. This we are doing in our firm belief to educate the members on modern trends in industrial relations. The Union has also acquired a massive expanse of land in Eleme, in Port Harcourt for a tanker park. It is about 47 hectres or 700 plots of land. The land has been bull-dozed and efforts are on gear to commence work with the construction of a road to the park. When completed, it will be a masterpiece, with a tanker park, fitted with shopping malls, bank, police post, fire service, hotel, etc and will generate money for the union. The vast land was donated, courtesy of the Rivers State Governor, Rt. Hon. Chibuike Rotimi Amaechi."