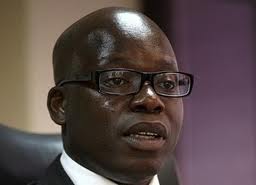 22 August 2013, Lagos – The difficult operating environment plaguing companies in the oil and gas sector shows no sign of abating as one of the players in the sector, Oando Plc, has announced a decrease in its half-year, Q2, profit.
Oando's unaudited results for the half year-ended June 30, 2013, showed that it recorded a profit after tax of N4.3 billion as against N6.6 billion earned in 2012. Its profit before tax stood at N6.15 billion compared with N10.41 billion in 2012. Its turnover was N280.32 billion as against N350.6 billion in 2012.
The company in a statement made available to newsmen said the decline in its Q2 numbers could be attributed to a reduction in downstream importation due to substantial unpaid outstanding subsidy obligations by the federal government.
The company also stated it has reduced its total indebtedness by 18 per cent as it harnessed new capital raisings to reduce financial leverage and interest expenses.
A review of the company's operational fundamentals showed that total debt reduced by N53 billion in the past 12 months from N289 billion to N236 billion.
Oando had sought to raise N55 billion through a rights issue of 4.5 million ordinary shares at N12 per share between December 2012 and February 2013. Total subscription to the rights issue was however N62 billion, indicating an oversubscription of N8 billion or 14 per cent.
The net proceeds from the rights issue were earmarked for part-repayment of a N60 billion syndicated loan used to fund the acquisition of upstream assets and swamp drilling rigs, part-financing of acquisition of upstream and midstream assets by Oando's upstream subsidiary, Oando Energy Resources, OER, and investment in working capital to support the increased level of business.
Group Chief Executive of Oando, Mr. Wale Tinubu, said: "We remain steadfast in our commitment to developing the higher margin mid-upstream operations, which have performed creditably as opposed to our downstream where we have had to reduce our imports by over 30 per cent as a result of delays in the payment of our FGN guaranteed subsidy payments due, thus directly affecting our revenue and net profit. We, however, continue to explore efficiency plays to increase our margins and add value to the sector."
– This Day