24 November 2014, Lagos – Oando Plc will today open application list for its rights issue as the integrated energy group seeks to raise new equity funds from existing shareholders to deleverage its balance sheet and rebalance its assets position with its long-term growth outlook.
Oando is offering new shares to shareholders in its book as at July 25, 2014 on the basis of one new share for every four shares held as at the qualification date. In a show of confidence, the rights issue is being offered at N22 per share, some seven per cent more than the current market price of the stock. Oando opens today at the Nigerian Stock Exchange (NSE) at N20.39 per share.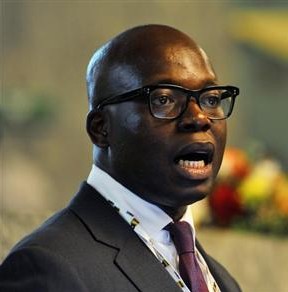 The application list for the offer will close on December 19. The NSE at the weekend confirmed the details of the rights issue, including the opening and closing date for the application list.
A source in the know said Oando was expecting full subscription to the rights issue noting that the company has secured key endorsements from several important individual and institutional shareholders.
According to the source, the current market price does not truly reflect the intrinsic value of the energy group, especially in the light of recent milestones and earnings.
In similar issuance, Oando had in 2013 raised about N55.2 billion from a rights issue, slightly above the initial target of N54.6 billion. The company had issued 4.548 billion ordinary shares of 50 kobo each to existing shareholders at N12 per share between December 2012 and February 2013 with the intention of raising N54.6 billion. Allotment approved by the Securities and Exchange Commission (SEC) however showed that Oando succeeded in raising N55.2 billion, which many had said indicated the high level of investors' confidence in the company.
Third quarter report of Oando indicated that the company optimized its bottom-line performance as significant improvements in top and midline costs moderated decline in turnover and returned higher earnings to shareholders.
"The group is making solid progress in achieving a more robust financial performance despite the current industry trend and 30 per cent decline in global crude prices year to date. Our conservative nature ensures that we apply risk mitigating processes, by implementing hedging tools in the upstream on our future crude production, $100/barrel for 3 years.
"We also fixed our gas prices through long term contracts with our customers in the midstream sector and have taken advantage of the lower prices in landing our refined imported products, resulting in improved pricing efficiencies. As we wrap up 2014, we look forward to a full quarter's production contribution from our newly acquired NAOC JV assets, which have steadily increased our current output above 50kboepd, as well as achieving diversity in earnings via our increased upstream contribution," group chief executive officer, Oando Plc, Mr. Wale Tinubu said.
Key extracts of the interim report and accounts of Oando for the nine-month period ended September 30, 2014 showed that while turnover dropped by 12.5 per cent, the group drew on improved input and marketing costs to grow gross profit and operating profit by 70.4 per cent and 97.3 per cent respectively. Net profit after tax rose by 75.7 per cent.
Group turnover stood at N338.11 billion in third quarter 2014 compared with N386.25 billion in corresponding period of 2013. Gross profit meanwhile rose from N70.4 billion in 2013 to N79.60 billion in 2014. Operating profit also nearly doubled at N36.25 billion in 2014 as against N18.37 billion in 2013. Profit before tax rose marginally from N9.76 billion in third quarter 2013 to N10.18 billion in third quarter 2014.
With tax gain of N523.4 million, group net profit rose to N10.70 billion in 2014 as against N6.09 billion in comparable period of 2013. Earnings per share meanwhile improved from 93 kobo to N1.26.
Oando recently distributed a total of N2.4 billion as cash dividends to shareholders, consisting of a final dividend of 30 kobo per share for the 2013 business year financial year and an interim dividend of 70 Kobo per share for the six-month period ended June 30, 2014, bringing total dividend per share to N1.
Oando has, this year, recorded several milestones, including the successful acquisition of ConocoPhillips, the largest acquisition by an indigenous player in Africa; in the upstream, OML 125 production increased by 17 per cent to 651,000 bbls, while OML 56 production increased by 30 per cent to 171,000bbls compared to prior comparative period; in the midstream, Oando Gas and Power is extending its natural gas distribution network by 8.0km from Ijora to the Marina business district in Lagos state, positioning the company to benefit from the growing demand for gas and power infrastructure in the country while in the downstream, the completion of the Apapa Single Point Mooring (ASPM) Jetty, a first in Africa; with expected demurrage cost savings and additional income streams.
On the impact of Oando's $1.5 billion acquisition of ConocoPhillips Nigeria which has transformed the company into Nigeria's largest indigenous oil and gas producer, it is expected that there would be further improvements in the company's performance as the acquisition is set to increase daily oil production exponentially by 600% equivalent to 45,000 boe/d, annual revenue of over US$600 million, and annual free cash flows of $150 million.
– The Nation