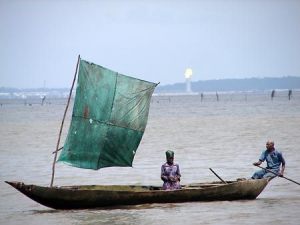 Emma Amaize
10 July 2012, Sweetcrude, WARRI – OGHEGHE, a riverside oil community in Warri North Local Government Area of Delta State used to be a bustling neighborhood some years ago, with a large population of Itsekiris and Ilajes from Ondo State, engaged principally in fishing business, but in the present day, it is a silhouette of itself.
Raison d'être: Ocean surge had swept hundreds of villagers from their ancestral homes. What is more important to the villagers is how to protect their lives and property from sea incursion.
The once popular Ogheghe market, which attracted traders from many parts of the state, Lagos, Ondo, Bayelsa and Edo states submerged long ago and the pledge by government to build a new market for the people has not materialised.
Niger-Delta activist and chairman of the Itsekiri Development Association, IDA, Comrade Omolubi Newuwumi, who hails from Ogheye told Sweetcrude: "We used to have a very big market here, it is no more.
That place you are seeing now is the location, but what are you seeing there now is river. That is what it has been turned into and we are still waiting for government to build a standard market that can withstand ocean surge".
The community is half its former size now and the people live everyday of their life with the mortal fear of rising to find themselves homeless. Due to the long years of thumping by sea wave, many people have also relocated from the area, while more than 200 residential houses, school and graves had, allegedly been washed away, in the last few years.
Tears of a victim: Newuwumi, who is also a chair aspirant in Warri North under the platform of the People Democratic Party, PDP, tried severally to hold back his emotion, as he spoke on the travails of his people when Sweetcrude visited.
Location of father's house Tried as he did, the reporter observed he could not bottle it to any further extent. His eyes soon reddened while he showed Sweetcrude a particular spot right in the middle of the the sea, which he said, used to be the location of his father's house.
Newuwumi wept as he recalled that his father's house where he grew up as a child and many others had been sunken by the ocean. Huge spread: Ogheye is not the only Itsekiri community seriously threatened by sea surge. There are at least 21 other Itsekiri communities suffering the same fate in Warri North and Warri South-West local government areas.
Among them are Molume, Ugbege, Ewoleba, Ebokiti, Ekekporo, Eke-Igharo, Ototo, Eke-titon, Ogheye-uton Ogbeye –Dimigun. Others are Ogheye-Eghoroke, Ogheye, Zion, Ajadogo, Ugogo-egin, Oboghoro, Atankpoki, Utonlila, Jakpatie, Aja-eye, Orere-yanagho, Atsuran, Oriebu, Orubu, Bobi, Olobe, Bateren-tie and Bateren.
In other parts of Niger-Delta, more than 80 other communities, including Azamabiri, Agge, Ogbeintu, Oroibiri, Aghoro 1, Aghoro 2 in Bayelsa State are facing sea invasion. Omolubi, who is also the national president of the Itsekiri Development Association, IDA, said exploration activities by the oil companies were the major reasons for ocean surge.
We shift as the ocean shifts us – Azamabiri community That was the same explanation His Highness, Emmanuel Edi of Azamabiri, the nearest community to Bonga oil field, operated by Shell Nigeria Exploration and Production Company, SNEPCo, in Bayelsa State gave Sweetcrude at Azamabiri.
He said: "Following the exploration of oil in our area by Shell Petroleum Development Company, we are threatened every time by sea incursion. This place (present location of Azamabiri) was not our our first homeland, our town used to be bigger than this, but as they drill oil, it affects the structure of the place and lead to environmental problems for us. They do not care; all they are after is to collect our oil.
"As I speak to you, this is our fifth dwelling place, as the shores are shifting due to attack by ocean waves, we follow, the oil company and government do not think that there is need to protect our shores because of sea incursion." Sweetcrude gathered that over 100 houses belonging to Azamabiri people had been submerged in the last 10 years and the people wandered from one location to another once there was a sea incursion.
His words: "Go to Azamabiri Primary School, Azamabiri, it is over there, there are no teachers. No teacher can stay here, it is a local place, there is no health centre, no water borehole, we only have hand-dug wells, which are producing guinea worms. You know what it costs you to come here and I know that if not for the interest that Vanguard has for the people of Niger-Delta, they will not send you here. I thank you people".
Niger state governor should visit N-Delta –Newuwumi IDA president, Newuwumi, said after overcoming his emotion 10 minutes after: "I will like to use your media to invite the governor of Niger State, Dr Aliyu Babangida, to visit us. Yes, we want him to come and see things for himself and we will also tell him what we feel about his statement that oil wells over 200 kilometers away from the shore should belong to the entire country and not the oil states.
"I must tell you that as I speak to you, that area you are seeing (a location in the sea where there are oil platforms) owned by Chevron Nigeria Limited, CNL, used to be an ordinary playground in my community when I was growing up.
They are exploring oil there now and somebody who does not know the landscape of the place that stays in Niger state or Abuja and say that oil wells, 200 kilometers away from the shore belongs to the whole country.
Oil platforms You can see the oil platforms, how many kilometers are they from Ogheye, yet, somebody who does not know how we were displaced from our community is saying it belongs to him, it is maddening." Fear of sea incursion now beginning of wisdom In the Bible, it is written that the fear of God is the beginning of wisdom, but across several riverside communities in the Niger-Delta region, the fear of the sea incursion is arguably the beginning of life. Except for the communities that were fortunate to have the Niger-Delta Development Commission, NDDC, and other agencies carry out shore protection projects in their domains, the people have their hearts in their mouths.
Koluama tragedy: Sweetcrude gathered that Koluama 1 and Koluama 2 communities in Southern Ijaw local government area of Bayelsa State, affected by the Chevron Nigeria Limited, CNL, gas rig explosion in January, less than six months ago, used to be one large entity under the ancient Koluama kingdom, made up of several villages.
However, the arrangement was scattered in the fifties when an oil company carried out seismic operation with explosives. Community leaders said that the explosives that were used, which the oil company denied till date, was what split the old Koluama kingdom and subsequently prepared it for the sea waves that swept away the ancient Koluama kingdom with more than 250 houses at that time.
The tragedy, which disjointed what God put together, gave birth to present day Koluama 1 and Koluama 2 communities. Chairman, Council of Chiefs, Koluama 1, Chief Christian Munghan Bofa-akpele asserted: "Where Chevron calls offshore today is where our community use to be. We were swept away by ocean surge many years ago, you can see our village, there is no development.
"The little land you are seeing there, less than 25 meters from here is the only land covering us from the sea that is fast encroaching on us. "That is why we are calling on the Federal Government and Niger-Delta Development Commission, NDDC, to come and do shore protection in our community before the ocean sweeps us away."
Tamazo sacked in 1993 Chief Matthew Sylvanus told Sweetcrude at Tamazo community that the present location of the community was a new settlement inhabited by the people, as sea waves destroyed their homes and drove them from their original homeland in 1993.
His words: "Tamazo used to be a satellite community, but there was no shore protection. It was bigger than Koluama 1, but today, you can see our size. Even as we are living in the place now, we do not know what will happen to us tomorrow.
The oil companies do everything to our God-given land to drill oil, but our government does not check them to know how what they are doing is affecting us, that is our problem. When will our government rescue us, when will the fight for us?
Ebidouama community wiped out: Sweetcrude learnt that in one of such incursions, some years ago, Ebidouama community in Bayelsa state was wiped out by a rampaging ocean. This reporter was shown the former location of the community on the high seas on his way from Tamazo to Koluama 2.
There is no single house in the place, as the whole area is now water. Of course, there is no way you can know that a community once existed in the place except somebody tells you.
Ogheye shrinks yearly: Back to Oghehe community in Delta State, what we saw at Ogheghe community was disquieting. One of the community elders, Mr. Richard Fregene who spoke to Sweetcrude in his house said: "Life here has been very difficult because of the threat by the ocean.
This is our homeland, (gave a description with his hand), but part of it is what people now refer to as ocean because we have been sacked from there. In this place, we relocate from our homes every year depending on how the wave comes, mostly early in February.
It reduces in April and comes back big again around August. "For the avoidance of doubt, what you are seeing today as Ogheghe is not the mass of our community, it shrinks every year because of ocean surge and we don't know when the entire town will be washed away. Sea incursion became very worrisome in our community with the exploration of oil by Chevron.
As the ocean waves pulled down our houses, we move and build new ones, it comes again and we move again. This house (his residence) we are in now, only God can help me, I don't know what will happen, next year."
Prayers of a riverside dweller: His words: "I pray that God keep me alive till next year, I want you to come back next year, which is 2013 to come and find out if my house will still be standing. By the grace of God, I will celebrate with you if nothing happens to it.
This is our plight here, take a look at that house that is down, it was pulled down by sea waves, the owner is building in another location now – that is how we live here" He said the community had reported its plight to the oil company, but notwithstanding, it has continued with its operations without bothering to carry out shore protection to save the people from destruction.
"I am not happy as I speak to you because I am thinking of where to run to when the surge gets to my house", he added. The eldest man in the community, Mr. O. Dimighan, said: "We expect the government and the oil company to carry out shore protection project in our community to save us from death, but they are not bothered. We may be sleeping one day and what you will hear is that ocean surge has killed people in Delta State and destroyed their houses.
May be, it is after people have been killed that they will do shore protection for us". No resting place for the dead: On graves that had been washed away by ocean surge, he said: "We have lost count of the graves that have been washed away, we don't bury our people here again because we know that the graves will be uprooted, we look for burial grounds elsewhere".
Daydream: Newuwumi said the severe rampage of the ocean in the community appears as a delusion to him, knowing that what separated Orere, a neighbouring community from Ogheghe before now, was land, but now, it is sea. "People from Orere used to trek from their community to Ogheye before and vice versa, but now, it is by boat".
From Ogheye, the reporter was showed Orere community on the other side of the ocean. The effect of sea waves on the community was indescribable as I took a look when our speedboat driver inched closer. At the fringe of Ogheye from the Atlantic Ocean, during our visit, V#Sweetcrude saw the wonder of sea storming.
Trees are excavated from the roots just as a bulldozer and thrown metres backwards to the community No human being or building can stand such hurricane. Reprisal undertaking It is as if the ocean was on a reprisal undertaking, tagged: "Operation destroy anything on the way" and that is what the people pass through all their lives.
Despite the assurances of safety, the reporter had in his mouth when he saw the ferocious way the ocean was bulldozing trees and pushing furiously to the community. Only a timely intervention from government will save them from extinction.
Oil is destroying us in Newuwumi's words: "Oil is destroying us, it is not building us. Chevron is exploring oil from our land and just giving us desolation in return from for more more than 15 years now.
They are piping our wealth away from Kito I, Kito II , Jacket 10, Tapa, Delta Power production facilities in the area extending towards Bonga oil field in Bayelsa State, yet we are not catered for.
The place that is Kito II now with water was ordinary ground in 1990; it is inside the sea now. Tapa was ordinary ground too in 1970 and same for Delta power platform in 1968. I have been complaining, but nobody seems to bother about us". We are homeless — Odeli, Nunu A fisherman, Mr. Johnbull Odeli, said he recently lost his house to ocean surge and has not been able to build a new one.
He said: "My family is facing accommodation problem now, so as it is, I am homeless. Many people have relocated from Ogheye community because of ocean surge and when they leave, they never come back". Another villager, who lost his house to sea incursion, Edwin Nunu, said: "The river destroyed my house. Since then, I am finding it difficult to eat".
He also complained of the December 2011 Bonga crude oil spill, which he said was affecting fishing occupation in Ogheye, adding, "They sprayed dispersants and the chemicals there are poisonous to us.
They have also killed our fishes and affected fishing nets." Maurice Okorodudu asserted: "The truth is that oil is worrying us. We and our neighbours, Orere people see ourselves before the coming of the oil company, now, we don't see ourselves anymore because ocean surge has caused a division. Government should embark on a shoreline project to save us, we don't have water, there is no health institution and before you get to Koko, the headquarters of Warri North local government area with the sick person you are rushing to the hospital, the person would die on the road."