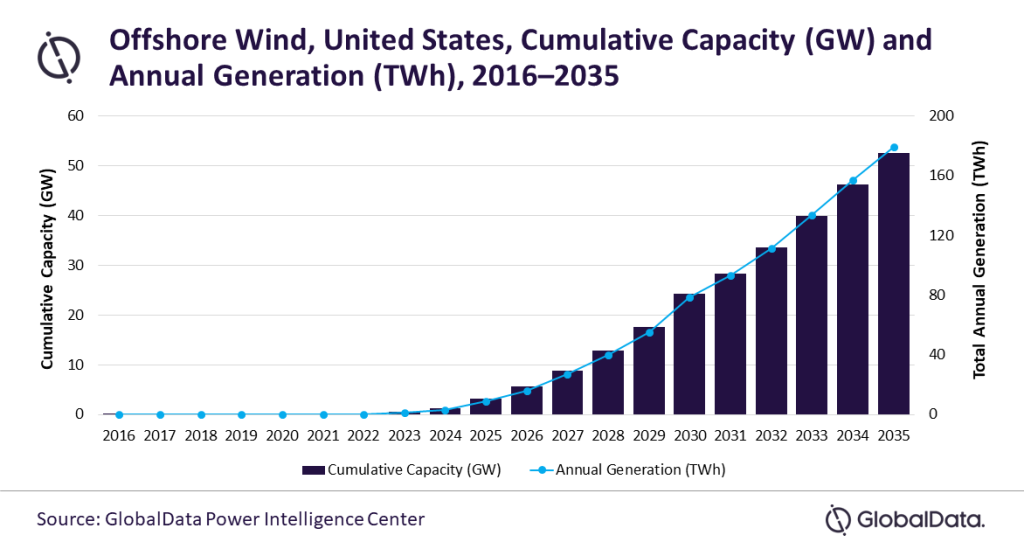 Lagos — A combination of factors such as complex regulations, lack of consistent and substantial federal support and high costs have hindered the growth of offshore wind in the US.
However, offshore wind has several advantages over other forms of renewable energy, which makes it a valuable addition to the energy mix, especially as the US looks to decarbonize its power sector and transition to a low-carbon future, says GlobalData, a leading data and analytics company.
GlobalData's latest report, "United States Power Market Size, Trends, Regulations, Competitive Landscape and Forecast, 2022-2035," reveals that the cumulative installed capacity in the US power market is expected to achieve a CAGR of more than 3% during 2022-2035.
Against this backdrop, the government has acknowledged the importance of offshore wind power capacity development. In March 2021, the US government announced a national goal of adding 30 GW of offshore wind capacity by 2030 and 25 GW of onshore wind capacity by 2025.
To achieve this goal, the US Loan Programs Office (LPO) is set to provide $3 billion in funding through the Innovative Energy Loan Guarantee Program. The US Department of Energy also announced $8 million for 15 new offshore wind R&D programs.
Attaurrahman Ojindaram Saibasan, Power Analyst at GlobalData, comments: "The government aims to primarily accelerate and expand clean energy deployment on public lands and offshore waters. Funding will support the planning and permitting of solar, wind, and geothermal energy projects, and associated transmission infrastructure. This will help mitigate climate change impacts and meet the goal of deploying 30 GW of offshore wind capacity by 2030 and 25 GW of onshore wind power by 2025."
Offshore wind was introduced to the US capacity mix only in 2016 and in 2021 its cumulative capacity stood at only 0.04 GW. Annual generation was recorded at 0.2 TWh.
According to the report, offshore wind capacity and annual generation is expected to increase at a CAGR of 66.4% and 64.6% between 2021 to 2035 to reach 52.5 GW and 179.4 TWh, respectively. In 2035, offshore wind power will account for 2.4% of the country's cumulative capacity and 3.4% of its total annual generation.
"The introduction of Inflation Reduction Act (IRA) in August 2022, which extended Investment Tax Credit and Production Tax Credit, is a major boost for the renewable power market. The federal and state level targets for offshore wind, along with the technology specific auctions, present a huge opportunity during the forecast period.
"Moreover, in September 2022, the US government introduced the 'New Floating Offshore Wind Shot' program under the existing 'Earthshot Program'. The floating offshore wind program aims to reduce costs of floating technologies by more than 70% to $45/MWh by 2035. The government also introduced a floating offshore wind specific target of achieving 15 GW capacity by 2035. This is based on the existing target of achieving 30 GW offshore wind capacity by 2030. All these factors bode well for the offshore wind market." Saibasan said.
Follow us on twitter