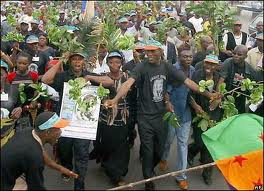 06 June 2013, Port Harcourt — THE people of Ogoni in Rivers State, have again vowed not to allow oil explorations resume in their area until certain conditions that would address challenges of environmental pollution and other related issues were met.
Speaking at a one day programme, yesterday in Bori to commemorate the World Environmental Day in Ogoni, Administrator, Ogoni Environmental Protection Agency, OGEPA, Mr. John Lawisa, said that the area had suffered so much pain, devastation and economic strangulation from pollution arising from oil exploration.
Lawisa, who said Ogoni were not in a hurry to allow multinational oil companies resume activities, condemned what he termed failure of multinationals and the Federal Government to address environmental challenges of oil exploration.
"Ogoni people, through their protection agency- OGEPA want to tell the Rivers State Government, Federal Government of Nigeria, Shell, Nigerian National Petroleum Company, NNPC , among others that there is no idle or free land here. We have been sidelined for far too long."
*Jimitota Onoyume, Vanguard