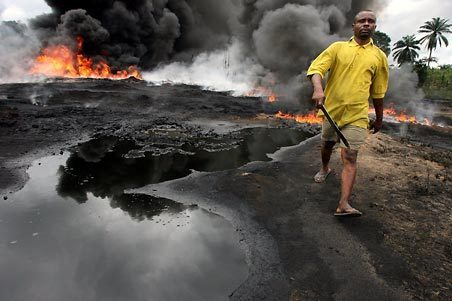 10 February 2013, Abuja – The Hydrocarbon Pollution Restoration Project (HYPREP) has hired a technical consultative team from John Hopkins University, Baltimore, USA over the oil spill in the Niger Delta.
HYPREP is a department in the Ministry of Petroleum Resources created by the federal government to ensure the cleanup of oil spill affected areas in Ogoni land in the Niger Delta.
Mrs Joy Nnieh-Okunnu, National Coordinator, Hydrocarbon Pollution Restoration Project (HYPREP), said on Monday in Abuja while briefing newsmen on the state of the project that it would work closely with the people of Ogoni in the remediation of oil spill sites in the area.
She said that HYPREP was already collaborating with a team of professors from the John Hopkins Bloomberg School of Public Health to carry out an impact assessment of the health effect of the oil spill on the community.
"We will carry out a facility tour of health centres in Ogoni to restore health care in the environment in line with the recommendations of the United Nations Environment Programme (UNEP).
"We want to assess the facilities at the various community health centres to ensure they are equipped enough to cater for the wellbeing of the rural dwellers," she said.
The coordinator said that plans had been concluded for the team to embark on an assessment visit of the affected local government areas with a view to addressing the health needs of the communities.
"We will on Feb. 5 visit the four local government areas of Ogoni and the various sites where there have been oil spillages.
"We will also work with other various health officials to support the projects' manpower through collaborating with Cancer Society of Nigeria and doctors to fast tract health care development," she said.
She assured that a lot of sensitisation programmes had been carried out on the need for the community to cooperate with the team to ensure a holistic clean-up of the environment.
According to her, HYPREP is already getting support from relevant stakeholders, including banks to ensure that the health and safety needs of the people of the community are addressed.
She however said that HYPREP was not out to give cash to affected communities but to work with them to clean-up the environment and ensure better access to health facilities.
The team from the John Hopkins Bloomberg School of Public Health is led by Prof. Pat Breysse of the Department of Enviromental Health Sciences. Others are Prof. William Brieger of the Department of International Health and Dr Eliseo Guallar of the Department of Epidemiology and Medicine.
In his remarks, Breysse pledged to ensure a thorough and efficient exercise in line with international best practice.
UNEP had presented a scientific assessment of oil pollution in Ogoni land to the federal government on August, 2011 indicating serious public health and environmental impacts in the report.
The federal government consequently set up HYPREP in July, 2012 as part of efforts to ensure the clean-up of the area.
*Nasir Imam And Hamisu Muhammad, Daily Trust