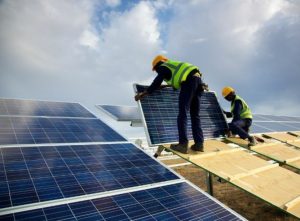 Eunice Imo
Lagos — The Ogun State government has trained and empowered 500 youths on solar panel installation and marketing, boosting access to green energy, job opportunities and wealth for the residents.
The youths trained were selected from three senatorial districts of the state.
The training was jointly sponsored by the Ogun State government, After school Graduate Development Centre, ACT Foundation and Access Bank plc in recognition of 2023 International World Youth Day, tagged, "Green Skills for Youth: Towards a Sustainable World".
Speaking on the programme held in Abeokuta on Friday, Biola Odetola, ex-special assistant to Governor Dapo Abiodun on job-creation and youth empowerment, who spoke at the programme held in Abeokuta recently, noted that the training would help the young people of Ogun state be financially independent.
He said: "This training is to train young people in Ogun State to become solar panel installation technicians.
"Ogun State under Governor Dapo Abiodun has now elevated 500 people and given them skills to start a venture, so they are on their own and they are independent financially. We expect that in a year, the trainees will be able to empower several other people and the expansion goes on like that."
The founder of the Afterschool Graduate Development Centre, Funmi Adeyemi, also highlighted that the training would provide the state an opportunity, and also increase the penetration of green energy.
"This is a big opportunity for our people in the state. Renewable energy is growing, it's one of the areas that is growing and for us to have had 500 youths, and it means we have increased the penetration of green energy to places that have never been connected to the national grid.
"We have trained the youths now and they can develop their own solar panels and sell, and we can connect them to dealers, and they become their marketers", she said.
Qudus Yusuf, permanent secretary, ministry of youth and sports, urged the youths to improve their training and allowed it to be living skills, pledging government's support and patronage to some of the trainees afterwards, noting that the future is renewable and clean energy.