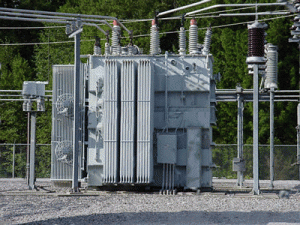 29 May 2012, Sweetcrude, ABEOKUTA – The Ogun State government has taken delivery of 500 transformers it bought as part of measures in assisting the Power Holding Company of Nigeria (PHCN) boost power supply in the state.
Schneider Electric supplied the 500 brand new transformers of various specifications to the government.
Delivering the transformers at the Government House in Abeokuta, Mr. Guillaume Schoebel, Schneider's Vice-President for Middle East and Africa, described the transformers as high grade, with life span of about 45 years.
Blaming the constant problems of installed transformers in the country to bad installations and overloading, he said: "For that, we are committed to train people of Ogun State on how to install and maintain the transformers and also monitor the load of the network. So, this is the added value that we can bring to Ogun State".
"Our technology gives access to electricity for people in remote areas – people, who are not going to be connected to the grid in the next 15 to 20 years," he said.
The Commissioner for Special Duties, Prince Lanre Tejuoso, stated that the state government was assisting PHCN to ensure that electricity supply gets to the people.
"It is really their duty but we cannot wait for them. We have to partner them to ensure that the barriers they have in terms of delivery of transformers are surmounted,"he said, adding that, "That is why we partnered Schneider to get the best quality transformers. People have been buying transformers and we inherited so many bad transformers. So, that is why we are going for the best in the industry."
Speaking at the event, Minister of Power, Prof. Barth Nnaji, stated that the intervention of the state government in supporting the Federal Government was a welcome development.
"On completion of the installation of the transformers, the dividends of the effort of this dynamic state government would greatly enhance quality of power supply and delivery at all the communities that are to benefit from this laudable initiative," said Nnaji, who was represented by the Director of Power in the ministry, Mr. Sanusi Garuba.