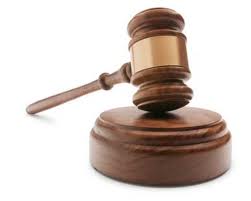 Ifeanyi Okolie
27 December 2012, Sweetcrude, Lagos – A Lagos High Court in Ikeja, presided over by Justice Lateefa Okunnu, has sentenced the Managing Director of Trans-Atlantic Global Oil, Akinyemi Idowu Jegede to seven years imprisonment.
The convict was prosecuted by the Economic and Financial Crimes Commission, EFCC, on a two- count amended information dated March 1, 2011.The accused was said to have obtained by false pretense, the sum of N27, 692,500 (Twenty Seven Million, Six Hundred and Ninety Two Thousand Five Hundred Naira) contrary to section 1(3) of the Advance Fee Fraud and Other Fraud Related Offences Act No 14 of 2006.
Akinyemi, a Chartered Accountant, was arraigned on September 10, 2007, on allegation that he fraudulently obtained money from his victims in a dubious forex transaction.
His arrest and prosecution was sequel to two petitions dated 18th and 20th September, 2006 by Amfidel International Limited and Sunny Ositez International Limited respectively, where they alleged that one Mr. Ifeanacho Egbuna who was the Branch Manager of Fidelity Bank Plc, Enu-Owa branch, Lagos Island collected several sums of money from them with a promise that the dollar equivalent would be transferred to the account of their overseas suppliers.
To finalise the transaction, the petitioners issued draft for the sums of N13, 570,000.00 and N14, 122,500.00 respectively in the name of Trans-Atlantic Global Oil Services Ltd, a company wholly owned and operated by the accused person.
In the course of interrogation, the accused volunteered in his statement wherein he admitted collecting a total of N27, 692,500 (Twenty seven Million, Six hundred and ninety two thousand five hundred naira) from the said Mr. Ifeanacho Egbuna and that he could not transfer the said sums as agreed because he had some problems in his petroleum business.
On December 13, 2012, counsel to EFCC Francis Usani urged the court to convict the accused person on the strength of the testimonies of seven witnesses and the twenty-three exhibits tendered during trial. But counsel to accused person, E.D Onyeke prayed the court to discharge and acquit his client of the charges preferred against him.But Justice Okunnu in her ruling convicted and sentenced the accused to seven years imprisonment and also ordered the convict to pay restitution to the victims.