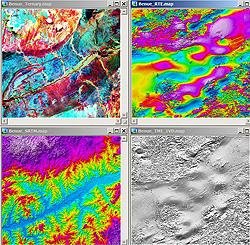 Taye Obateru
25 April 2012, Sweetcrude, JOS – AN on-going research on the available mineral deposits in Nigeria has shown potentials for commercial discovery of oil and gas in parts of Central and North Eastern Nigeria known as the Benue Trough, Head of the research team, Professor Agbaji Ogezi has disclosed.
In a presentation at the Professorial Chair Endowment in Geology Seminar by the Petroleum Technology Development Fund (PTDF) at the University of Jos, he said the research has shown similarities to some parts of the Niger Delta where oil and gas have been found in commercial quantities.
Ogezi spoke on "Geology, Petroleum, Mineral and Environmental Resources of the Benue Trough, Nigeria – Opportunities and Challenges" which highlighted the work done so far under the projects. The Benue Trough covers Bauchi, Benue, Gombe, Kogi, Nasarawa, Plateau and Taraba states, among others.
He said, "A comprehensive review of the literature, results of preliminary on-going integrated remote sensing, geological and exploration studies and comparison with other related basins within the WCARS (West and Central Africa Rift System) suggest that the Benue Trough may be a favourably area for oil and gas, as well as for strata-bound and structurally-controlled mineral deposits.
"With respect to petroleum, there are good prospects, especially in the formations which are thicker and structurally and stratigraphically-related to the Niger Delta as well as to the Chad/Borno, Niger, Sudan and Cameroun basins within the same trend".
Ogezi added that extensive environmental resources for game and nature reserves for tourism development also abound, but warned that proper assessment of geological, environmental and social impact of the potentials should be carefully carried out before exploration to avoid the mistakes made in the Niger Delta Region.
Vice Chancellor of the university, Professor Hayward Mafuyai, said the institution would not relent in her research efforts for the benefit of the country and the global community.