27 March 2015, Lagos – Some oil and gas experts on Wednesrday urged the federal government to deploy modern technology in combating the activities of crude oil thieves in the Niger Delta area.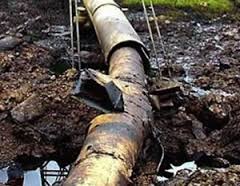 They told the News Agency of Nigeria (NAN) in Lagos that such technology should include Closed Circuit Television (CCTV) and other electronic devices that could indicate that a pipeline was being tampered with.
They also said that such devices gave timely images and reports to the Nigerian National Petroleum Company (NNPC) and other relevant bodies monitoring the pipelines to promptly tackle the problem.
The experts in the industry adding that deploying such electronic monitoring devices would assist in reducing the huge national revenue loss through illegal bunkering of crude oil.
The Managing Director, Tec Flow Oil and Gas Limited, Mr. Simon Francis,  said the issue of oil theft was a serious challenge that needed to be dealt with through a new mechanism.
Francis said that the use of technology would contribute immensely to combating crude oil theft and incessant vandalism in the nation's pipeline network.
He also urged the government to encourage private sector participation in the oil sector, adding that the organised private sector participation would expand the profit outlay of operators.
"Crude oil theft remains a big challenge to the socio-economic development of the country.
"Government should also deregulate the downstream sector of the oil and gas. This is the only way to address fuel scarcity,'' he said.
Former National Publicity Officer, Petroleum, National Gas Senior Staff Association of Nigeria (PENGASSAN),  Mr. Seyi Gambo, said government should focus more on ways to liberalise the downstream petroleum sub-sector.
According to Gambo, the passage of the Petroleum Industry Bill (PIB) remains the only way to address sector's challenges.
He said that the bill identified specific reforms needed to be championed by the NNPC and operators in the entire sector.
He advised the government to privatise the country's refineries since government could no longer maintain them adequately.
"Government can embark on modular refineries in some state as such investments could be part of the investments that will create jobs for Nigerians," he said.
Contributing, the Director of Operations, IPMAN, Mr. Mike Osatuyi, also lamented the non-passage of the PIB by the National Assembly.
Osatuyi said the bill would have gone a long way to address the problems in the petroleum industry, adding that the industry should be handed over to private investors.
The IPMAN boss urged the government to diversify its sources of power generation, adding that it should exploit other alternative sources of energy.
– NAN