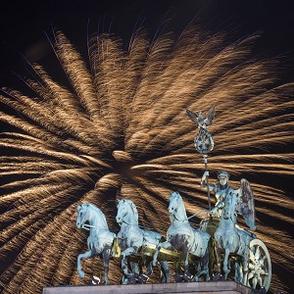 01 January 2013, Newswire – Brent crude futures closed in on a record full-year average daily price for 2012 despite mixed fortunes on the last day of the year as uncertainty about a US budget deal to avert mandated spending cuts and tax hikes continued to buffet markets.
Brent crude futures were on pace to post a fourth consecutive full-year gain, though the rise of nearly 3% in 2012 will lag considerably the 13.3% rise in 2011.
US crude edged higher on Monday in morning trading in New York, but was on tap to end the year more than 8% lower from its 2011 finish, after three straight yearly gains.
The US Congress continued to seek an agreement to steer clear of the so-called "fiscal cliff" with only a few hours remaining to act if a deal materializes.
Negotiations involving Vice President Joe Biden and Senate Republican leader Mitch McConnell appeared to offer the last hope for avoiding across-the-board tax increases and federal budget cuts triggered at the start of 2013.
Fears that the US economy might be pulled back into recession by the tax hikes and spending cuts now mandated have kept investors cautious as last-minute political wrangling continues.
"The negative consequences of the fiscal cliff appear to be too large to ignore, and overtures from both political parties have been increasing," said Jason Schenker, president of US consultancy Prestige Economics.
"Significant market moves are likely when the deal gets done – or if no deal is done before the year-end … In any case, neither outcome is fully priced in."
Brent February crude dipped 18% to $110.44 a barrel at 1554 GMT, heading for a third straight lower settlement, having fallen to $109.38 before pushing back above the 100-day moving average of $109.88.
Brent has averaged above $111 in 2012, on track to eclipse the previous record daily average of $110.91 in 2011.
US February crude was up $0.40 at $91.20 a barrel, having fallen to $90.00 before recovering back above the 100-day moving average of $90.61.
Trading volume remained thinned by the year-end holiday season. Total Brent volume was 68% under the 30-day average, with US turnover 80% below the 30-day average.
US January RBOB gasoline and heating oil slipped, but also in seesaw trading as the contracts approached expiration at the end of Monday's session.
While Middle East turmoil and the West's ongoing dispute with Iran over helped support oil prices even as global economic growth sputtered, elevated oil prices gave OPEC a financial bonanza.
OPEC's oil export revenues hit a peak of $1.05 trillion, up 2.5% from last year, US government data showed.
Commodities found some support from economic data in China, the world's second-largest economy and crude consumer, where factory activity in December expanded at its fastest rate since May 2011, reinforcing hopes for revived growth.
But tepid global economic growth and ample supplies are expected to keep a lid on oil prices next year, with crude prices gradually slipping. Brent crude will average at $108 a barrel in 2013, a Reuters monthly survey of 26 analysts showed.
Supply is increasing, with the United States pumping the most oil in 19 years after shale oil discovery pushed output to nearly 7 million barrels per day. US crude imports slipped to the lowest in 12 years.
Top oil exporter Saudi Arabia expects production increases by other oil producers to weigh on energy prices in 2013, potentially cutting into its fiscal surplus.
Saudi Finance Minister Ibrahim Alassaf said on Saturday the kingdom ran a budget surplus of 387 billion riyals ($103.2 billion) in 2012 as high energy prices and strong output levels generated revenue of 1.24 trillion riyals.
"The results of this year are exceptional," Alassaf told Al-Arabiya television, but added, "The international conditions and the increase in production by some states (in 2013) will have negative effects on prices."
Political tensions in the Middle East are expected to keep oil prices supported in 2013.
On Friday, Iran started six days of naval drills in the Strait of Hormuz, a vital oil and gas shipping route, the official IRNA news agency reported.
Iran has previously threatened to disrupt or close the waterway if its nuclear sites are subjected to military attack by Israel or the United States.