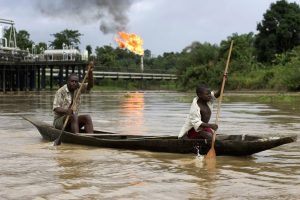 Mkpoikana Udoma
Port Harcourt — The Movement for the Survival of Izon Ethnic Nationality in the Niger Delta, MOSIEND, has said oil should be owned by the community that produces it which then pays royalties to the Federal Government.
The National Chairman of the Elders Council of the group, Chief Timi Ogoriba, made the suggestion while reacting to the recent inauguration of a new board for the Niger Delta Development Commission, NDDC.
Lamenting that most oil producing communities are left underdeveloped despite their contributions to the national economy, the MOSIEND leader tasked the members of the NDDC new board, headed by a former presidential aide, Mrs Lauretta Onochie, to use their tenure to develop oil-bearing communities in the Niger Delta region.
"Oil should be owned by the community that produces the oil and will pay royalties to the centre," he said, urging the new board to correct the ills in the system.
Ogoriba also stated that MOSIEND will, in the forthcoming election, only support presidential and governorship candidates, who have a blue print to develop Izon people.
"Right now, no person from the area that produces oil has oil block, and the oil blocks are manned by people from the outside.
"These things are not supposed to be so. In the next dispensation, we want to make sure that all of these must be put together.
"The man that will oversee Bayelsa and Rivers states must be a true Izon son. Anybody that is coming, we want to sit down and look at the Izon interest. We will make that person to sign an MoU (Memorandum of Understanding) with us. Whoever that is coming as Mr President, we have to play a role to ensure his success so we can have a stake there," he said.
Follow us on twitter