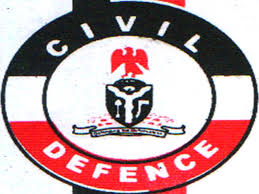 Mkpoikana Udoma 31 March 2017, Sweetcrude, Port Harcourt –  The Rivers State Command of the Nigerian Security and Civil Defence Corp, NSCDC, says it has impounded 152 trucks filled with illegally acquired petroleum products.
It also said 315 oil thieves have been jailed in the last two years.
The NSCDC stated that so far this year, over 20 trucks have been impounded, 19 illegal refineries destroyed, and 11 trucks handed over by the the Joint Task Force, Operation Delta Safe and the Nigerian Navy to the command.
A statement by the State Public Relations Officer of the Corps, Chief Suprientendent Oguntuase Michael, said the trucks and vehicles impounded are currently in the exhibit yard of the NSCDC at Iriebe, Oyigbo Local Government Area of the state.
The statement quoted the State Commandant of the Corps, Mr. Mohammed Lawal Haruna, as charging the anti-vandal team of the command to redouble their efforts in ensuring the creeks are cleared of illegal refiners and all forms of illegal dealings in oil business.
According to the statement, "In the past two years, over 50 convictions have been made, resulting to about 325 suspects serving different jail terms in Nigeria prisons, while almost 200 are on awaiting trial.
"Over 152 trucks and hundreds of vehicles with illegal petroleum products have so far been arrested."
The security agency saddled with the responsibility of protecting national assets also said that in the month of March alone, three trucks and two vehicles with 114,000 litres and 50 drums of adulterated AGO have been impounded.
"On 21st March 2017, five suspects and 2 trucks filled with 45,000litres wirh registration numbers XN 325 AB and LFA 765 XB filled with products suspected to be AGO were intercepted by the anti-vandal team of the NSCDC along Aba road, Port Harcourt. The suspects confessed that the products were lifted from Sigmore depot at Abonnema Wharf in Port Harcourt.
"
On Saturday
Saturday, 18th March 2017, threes suspects and a truck with registration number NBB 674 XA carrying a 36,000litres of AGO were arrested at Abam junction in Okirika. About 2100hrs same date, a mini bus carrying 9drums of adulterated AGO with registration number XA416EHM was equally arrested.
"While on routine patrol same date along Eleme Junction in Eleme LGA of the state, two other suspects with a Toyota Camry with registration number ER539APP were equally apprehended while conveying about 41drums of illegally refined AGO. During interrogation, the suspects confessed that the products were lifted from an illegal dump at Borokiri in Port Harcourt.
"Consequently, on Monday 13th March, 2017 at about 0200hrs one Nasiru Abubakar and Abdullahi Isa were equally arrested while loading products suspected to be adulterated AGO into a 33,000litres truck at an illegal dump at Okirika axis in Okrika Local Government Area, Rivers State."
Photo: suspected oil thieves during parade at the Rivers State command of NSCDC