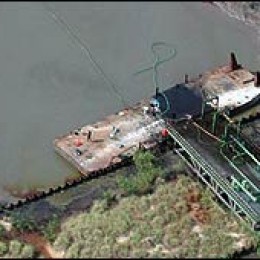 Emma Amaize
& Akpokona Omafuaire
12 September, 2011, Sweetcrude, WARRI–THE Commanding Officer, Nigerian Navy Ship, NNS, Warri, Delta State, Commodore Henry Babalola said, weekend, that oil theft has shrunk in the state based on available statistics from oil companies.
Speaking at the end of a two-day small arms firing exercise in Warri, the navy boss said that in conjunction with the Delta Waterways and Security Committee, DWSC, about five persons were nabbed recently in connection with oil theft in the state and they were helping the security agency in its investigations.
His words, "Bunkering has reduced, there is a bit of unnecessary alarm, but we have placed a boat at Escravos for rapid response purpose, we have increased our fleet patrol on the sea. We work based on available statistics from the oil companies, there is significant decrease in oil theft which was the outcome of our meeting".
He said, "There have been incidents of sea robberies recently but we have put in motion strategy to thwart their efforts, we have arrested five people in collaboration with the Delta State Waterways Security Committee, DWSC, and they are making useful confessions".
According to him, "We have capital ship on the waters, NNS Zaria is undergoing gun calibration and some repairs, and NNS Nwamba is on the way from Lagos. The ships are not sufficient but we are ready for any attack, we are battle ready, we are thinking proactively.
He gave e assurance of safety on the waterways of the state, saying the two-day small arms exercise "is designed to test the shooting ability of personnel and at the same time provide a platform for selecting top marksmen for subsequent exercise".