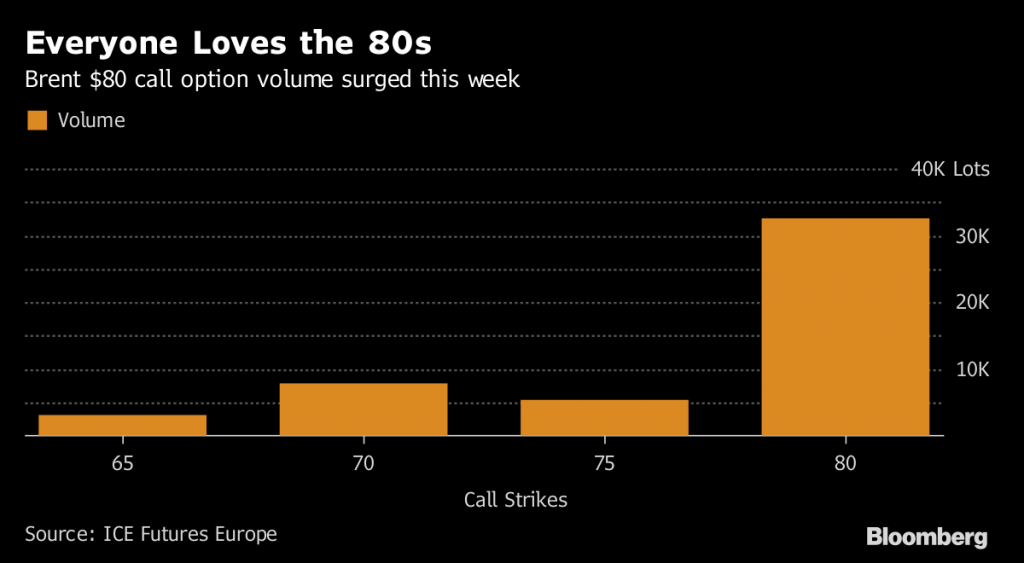 *Equivalent of 32 million barrels traded since last Friday
*Spate of similar bullish bets seen over the last two months
16 December 2017, London — Oil traders are increasingly betting that Brent crude will climb to $80 a barrel from the middle of next year, as OPEC and its allies prepare for the second year of output cuts amid simmering geopolitical tensions.
More than 32,000 option contracts giving traders the right to buy Brent at $80 for June 2018 onward traded in the last week, when the market was also shaken by the shutdown of a major North Sea pipeline. That's the equivalent of 32 million barrels, with a total cost of about $9 million. One-in-five Brent contracts traded on Thursday were $80 calls, according to ICE Futures Europe data.
With OPEC committing to extend output cuts through 2018, oil bulls argue that shrinking inventories mean that any supply disruptions may provoke sharp price gains. Those risks have increased in recent months as tensions ratcheted up between key oil producers Saudi Arabia and Iran, alongside political turmoil in Venezuela and conflict between Iraq's federal government and its semi-autonomous Kurdish region. Those factors fueled a surge in options buying to profit from potential price spikes.
"They seem cheap with inventories still drawing and geopolitical risks high," said Mark Maclean, managing director at Commodities Trading Corporation Ltd. in London, which advises on hedging strategies. "There is a very small margin for error for balances in 2018 to tip over- or under-supply. Add geopolitical risk and the trade doesn't look too bad."
The pattern has been developing for several weeks. Throughout November, volumes on Brent $80, $90 and $100 calls for 2018 and 2019 surged to the extent that the most-held December 2018 contract was the $100 call.
Even with the Paris-based International Energy Agency cautioning that OPEC may be too optimistic in predicting the elimination of excess oil inventories, those wagers contributed to money managers amassing a near-record number of bullish bets in the Brent crude market. Outright long positions total the equivalent of 595 million barrels, according to the most recent ICE Futures Europe data. The latest positioning data were due out later on Friday.
"The call buying points to how sentiment has changed over the past year to more bullish," Maclean said.
*Alex Longley & Michael Roschnotti – Bloomberg