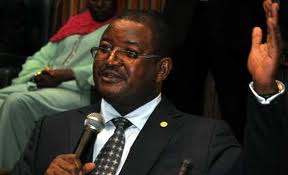 16 October 2012, Sweetcrude, Abuja – The Group Managing Director of the NNPC, Andrew Yakubu has lauded the oil workers unions for their unflinching support in ensuring continuous industrial harmony in the nation's oil and gas industry, describing them as "partners in progress."
Yakubu gave the commendation during a courtesy call/interactive visit by the National Executive Council (NEC) of the Petroleum & Natural Gas Senior Staff Association of Nigeria (PENGASSAN) in his office at the NNPC Towers, yesterday.
"One of our greatest gifts as NNPC Management is the presence of a strong workforce and supportive in-house unions. In particular, I commend your level of maturity and counsel and I must say without any fear of contradiction that you are partners in progress," Engr Yakubu stated.
The GMD specifically appreciated the co-operation of the unions to the NNPC during the recent challenge of fuel scarcity witnessed in some major cities of the country, stressing that such understanding was necessary towards achieving the Corporation's set objectives.
"We must sustain this cordial relationship for us to be able to deliver on our mandate and to a larger extent for the benefit of our country'', The GMD stated.
He urged the union officials to continue to engage the NNPC Management in meaningful dialogue, noting however that results must be seen to be produced from those meetings. "I am not interested in the number of meetings we have with you, but the number of results achieved," he said.
Yakubu, who admitted meeting a couple of challenges shortly after coming on board, said a lot is being done to ensure accountability and transparency in NNPC's operations by engaging all stakeholders towards improving ways of doing business.
According to the GMD, the Corporation has recorded a number of achievements in the past 100 or more days, assuring that "if we are to continue at this pace, we'll surely move the nation's economy forward and also change our perception in the eyes of our stakeholders."
Speaking earlier, the PENGASSAN National President, Comrade Babatunde Ogun, who congratulated Engr. Yakubu on his appointment as GMD prayed God to strengthen the GMD with wisdom and vigour to deal with the onerous task of growing and stabilizing the oil and gas industry.
He further assured the NNPC Management of the union's continuous support towards moving the nation's oil and gas industry forward.
"PENGASSAN remains poised to continually provide the necessary support for NNPC and the industry to build a symbiotic relationship that would help grow the industry and the Nigerian economy," Comrade Ogun stated.