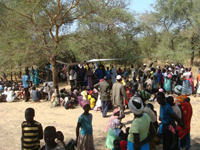 24 September 2012, Sweetcrude, JUBA – SOUTH Sudan has accused Sudan of air-dropping weapons to rebels, just as the presidents of the African neighbours were about to meet to finalise a border security deal to restart oil exports.
Sudan dismissed the charges and any links to rebels in the South, which seceded from Khartoum in July last year under a 2005 peace deal that ended decades of civil war.
Sudan, in turn, often accuses Juba of supporting rebels in its borderlands.
The claims came as Sudan's President Omar Hassan al-Bashir arrived in Ethiopia on Sunday to wrap up with his southern counterpart, Salva Kiir, two weeks of talks to end hostilities.
African and Western officials have been trying to mediate a border security agreement between the rivals which came close to war in April.
South Sudan's army spokesman Philip Aguer said Sudanese military aircraft parachuted eight parcels of weapons and ammunition to forces of militia leader David Yau Yau in the country's east on Friday and Saturday.
The rebels later attacked the town of Likuangole in Jonglei state, but were repulsed by the South's army (SPLA), he said.
Sudanese army spokesman al-Sawarmi Khalid said, "The Sudanese army has no relation to any rebel group in South Sudan and is not giving any military support to these groups.''
Yau Yau, one of several militia leaders fighting the government in South Sudan, is attempting to recruit armed youths from the Murle ethnic group since arriving in the area in late July, residents in Jonglei say.
A shortwave radio station with links to the Yau Yau rebellion says the group is fighting the government in reaction to abuses committed during a state disarmament programme.
Rights groups and UNMISS accuse South Sudan's army of human rights violations during a disarmament push aimed at ending a cycle of clashes between the Murle and Lou Nuer tribes.
Nearly 900 people died when about 7,000 armed youths of the Lou Nuer tribe attacked Murle villages in the Pibor area at the end of last year, according to the UN.
South Sudan is awash with weapons after a decades-long civil war with Khartoum that killed an estimated two million people.
The government, run mostly by former guerrilla fighters, has struggled to assert control over its vast and restive territories since declaring independence.
The two nations have been negotiating in Addis Ababa many issues left over from the secession such as marking the border and agreeing on fees for South Sudan to export its crude through the north.
Juba stopped its exports in January after tensions escalated.