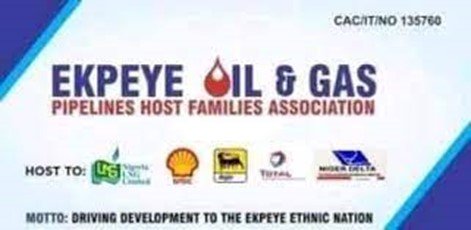 Mkpoikana Udoma
Port Harcourt  — Ekpeye ethnic nationality in Rivers State has issued seven days ultimatum to the Shell Petroleum Development Company of Nigeria Limited, demanding for a fresh Global Memorandum of Understanding on OML21, OML22 and OML27, or face massive protest from the people.
Similarly, the people are also demanding for the creation of four new cluster boards, to reflect the five kingdoms playing host to SPDC in the area, explaining that the existing one cluster board, was unacceptable.
Ekpeye Oil and Gas Pipelines Host Families Association said this in letter to the Managing Director of SPDC, said the host communities were not consulted before the said cluster board was formed.
The letter signed by National Chairman, of the group, Mr Dogini Chidi, and Secretary, Mr Kenneth Itigwe and 30 others, said the funds earmarked for community prpjects in the existing MoU was very little and insignificant as compared with other oil multinationals.
They listed the oilfields and facilities domiciled in Ekpeyeland to include, Adibawa Field in OML27, Ubie Field in OML22, Ahia Field in OML21, Mini Nta in Field OML22, Trans Niger Pipeline, Kolo Creek-Rumuekpe Trunk lines/Flow lines, Enwe Field in OML22, etc.
The people frowned at what they described as "SPDC's continuous use of mundane and outdated divide and rule tactics", saying that the tactics had subjected the people to untold hardship and retrogression.
"It is unacceptable, wicked and a grave injustice for SPDC to deny host communities from making imputs on the draft and the decisions taken unilaterally for the allocation of N90million annually, as money meant for the only cluster board, for the development of of the entire communities of Ekpeye Ethnic Nationality.
"The said amount does not reflect the demands of the host communities, as the money allotted for development in a year for the next five years by SPDC is less than the amount contained in an MoU signed by one of the IOCs for a year in one of the communities currently."
The group warned that SPDC would face a massive protest from the people, if it fails to respond to its demands at the expiration of seven days after receiving the letter.