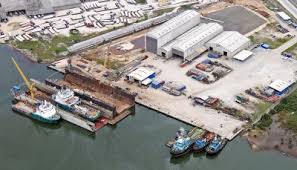 Mkpoikana Udoma
Port Harcourt —
The
Nigeria Customs Service
says it generated N19.8 billion from Onne seaport, Rivers State, in October this year.
Customs Comptroller, Onne Port, Auwal Mohammed, while briefing newsmen at the seaport, said the feat had not been recorded since the creation of the Command.
Mohammed said the feat was achieved due to the Command's doggedness and commitment to suppressing smuggling activities, facilitating trade and generating revenue through due process in compliance with Federal Government's fiscal policy.
The Comptroller, who
assured the public of the Command's determination to reduce to the barest minimum, the menace of smuggling unwholesome goods into the country, said: 
"Even though it is difficult to eradicate smuggling completely in the whole world, the command is determined to suppress the activities and reduce it to the barest minimum.
"No country is able to stop smuggling but what we do is to suppress it and reduce it to the barest minimum because no matter how smart we are, together with other agencies, the more we employ new ways of blocking ways of smuggling, the more they also improve on their tactics of bringing these contraband goods into the country."
The Onne Customs boss mentioned the deplorable state of the East-West road as one major challenge facing his command, as the road connects the command to other parts of the country, especially the Eleme axis of the road, which delays movement of containers in and out of the port.
He urged the media to always be objective in news reportage, saying: "Those doing illegal businesses at the ports will not be happy with us, and they will stop at nothing in tarnishing our image. So, if they come to you with a complaint, try as much as possible to clarify the information before going to press. Don't allow anyone to use you to tarnish our image."