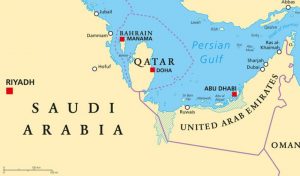 Dubai — Rare public disagreement between the United Arab Emirates and Saudi Arabia over OPEC policy points to a growing economic rivalry between the two largest Arab economies which only looks set to intensify, several regional analysts said.
The UAE's opposition this weekend to a proposed eight-month extension to output curbs, favoured by Saudi Arabia, was a rare display of defiance by Abu Dhabi, whose Crown Prince Mohammed bin Zayed al-Nahyan has been a staunch ally of Saudi Crown Prince Mohammed bin Salman.
The disagreement led the OPEC+ talks to be called off on Monday.
"The current OPEC standoff signals a wider push by the UAE to assert its economic and national self-interest vis-à-vis Saudi Arabia," said Amir Khan, senior economist at Saudi National Bank.
The alliance between the young ambitious princes had propelled a hawkish foreign policy that saw them launch a military campaign in Yemen, lead an Arab boycott of Qatar and combat Islamist political groups in the Middle East and beyond.
But as Saudi Arabia tries to wean its economy off oil, it is vying with the UAE for foreign capital and talent, although economists say it will take time to truly challenge the region's business, trade and tourism hub.
"There is this creeping economic competition in the relationship between the two biggest Arab economies and the competition is bound to intensify," said Emirati political analyst Abdulkhaleq Abdulla.
"The UAE is speaking its mind … but the relationship is strong and the leadership know how to resolve issues," he said.
The UAE foreign ministry and the Saudi government communications office did not immediately respond to Reuters requests for comment on their economic and political relations.
While common perceived threats from Iran and Islamist groups in the region are likely to keep a lid on political differences, analysts say, the two states are seen as likely to increasingly butt heads on matters of economic sovereignty.
– Reuters