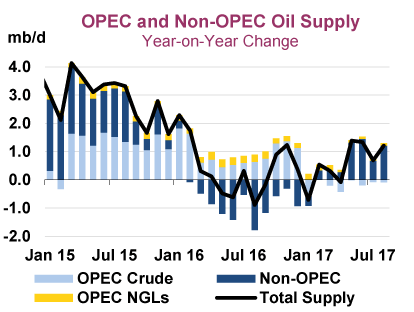 OpeOluwani Akintayo
25 October 2017, Sweetcrude, Lagos — The Organisation of the Petroleum Exporting Countries, OPEC, has revised its 2017 global growth from 3.1% it projected in December 2016, up to 3.6%.
According to the group's Secretary General, Mohammed Barkindo on Tuesday, the revision was necessary on the back of improving global trade, potential tax reform in the United States, ongoing positive dynamic in the Eurozone, and to some extent, in Japan, solid growth in China and India, and a marked improvement in Russia and Brazil.
"For 2018, this positive trend is set to continue with a healthy growth forecast of 3.5%", he said.
The OPEC chief said his claim was supported by the International Monetary Fund, IMF, during the recent annual IMF and World Bank meetings in Washington with Christine Lagarde, the Managing Director of IMF, when she said it was the first time in a decade that the market had seen such recovery.
Barkindo also said correspondingly, global oil demand growth has been robust, with signs of a strengthening trend.
In OPEC's December Monthly Oil Market Report, global oil demand growth for 2017 was pegged at a level of 1.15million barrels per day, mb/d. This has also been revised up considerably to now stand at 1.5mb/d.
For 2018, Barkindo said this encouraging dynamic is set to continue with a forecast of 1.4mb/d.
"We are not alone in our more positive oil demand numbers, with many other agencies revising their demand numbers upward in recent months".
At the start of 2017, the Organisation for Economic Co-operation and Development, OECD stock overhang was at 33mb above the five-year average.
This level fell gradually in the first four months of this year to just below 300mb.
In the following five months from May to September however, it fell by over 140mb to stand at 159mb above the five-year average for the month of September.
Of this, 132mb constitutes crude and 27mb products.
"It underscores the fact that product inventories have almost converged with the five-year average", he said.
Crude in floating storage is also down by an estimate of 50mb since June, with the help of narrowing contango, and then Brent flipping into a clear backwardation for the first time since the second half of 2014.
"There has been a massive drainage of oil tanks across all regions, in terms of both crude and products. A balanced market is now fully in sight," the OPEC chief added.
"This process has evidently been driven by the unprecedented conformity levels to the production adjustments in the Declaration of Cooperation. These consistently high monthly conformity levels around or over 100% have now put to rest any skepticism on the commitment of all participating OPEC and non-OPEC countries to jointly restore balance to the oil market."