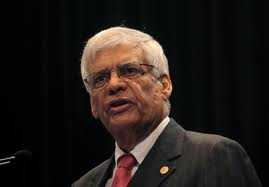 13 October 2011, Sweetcrude, Tripoli – The head of the Organisation of the Petroleum Exporting Countries (OPEC) has urged Libya to set up an effective Oil Ministry as soon as possible to properly oversee the troubled North African country's core petroleum industry.
Abdullah el-Badri, current secretary-general of OPEC, made the comments to Reuters as Libya persists with a de facto oil minister but little in the way of regulation for its National Oil Corporation (NOC).
"They should have a ministry. If you have a contract with the NOC, you need someone independent to supervise it," el-Badri, who himself used to be Libya's oil minister, told the news wire.
Libya used to have an oil ministry before scrapping it. At one stage former NOC chairman Shokri Ghanem held the ministerial post but reverted to just the position at NOC before defecting from the regime of
Muammar Gaddafi earlier this year as the Arab Spring swept across the country.
Ali Tarhouni, who was the finance and oil minister for the rebels who ousted the Gaddafi regime, is currently the de facto Libyan oil minister.