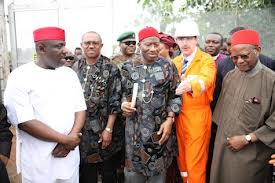 03 September 2012, Sweetcrude, AWKA – ORIENT Petroleum oil and gas firm says it would begin operating its refinery in Nigeria's south-eastern Anambra state by the end of next year which will process an initial 20,000 barrels per day, bpd, of crude oil.
Nigeria is among the world's top 10 crude oil exporters but has to import most of its refined product needs due to the dilapidated state of its refineries. Previous efforts to build new refineries have often been delayed or canceled.
Africa's biggest oil producer currently has a theoretical refining capacity of 445,000 bpd from its four plants but they process around 30 percent of this amount, oil industry sources have said.
"Our expectation is that the refinery will be up and running by the end of next year," Orient Chairman Emeka Anyaoku said at the inauguration of the project. "We expect that by the end of next year we should be refining 20,000 barrels of oil everyday and gradually after that we will build up to 35,000 then 55,000 and possibly higher."
Orient is exploring for oil in an area straddling Anambra state, Enugu, Kogi and Delta states, and sitting north of the main oil producing Niger Delta region, but there have been no official oil reserve figures published.
The company's website said it will refine crude oil produced from the area and Brass River oil, which is currently pumped from fields operated by Italian firm, Eni.