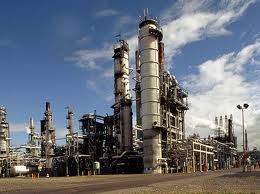 28 August 2012, Sweetcrude, AWKA – THE management of Orient Petroleum Resources Plc, OPR, said on Monday that its refinery, which would be sited at Nsugbe-Umuleri in Anambra State, would to be completed in the next 12 months.
This is contained in a statement in Awka by the Managing Director of the company, Mr Nnaemaka Nwakwa.
The statement said the company was going to further strengthen the Nigerian oil sector and contribute positively to the nation's economic activities.
It said: "The 3Dimension Seismic contractor is still working and following the interpretation of the data, OPR plans to drill some high capacity wells to guarantee the crude oil feed stock for the Orient Refinery.
"The phase will facilitate the fast tracking and early completion of the refinery expected in the next 12 months.
"OPR's refining activities will contribute significantly to the supply of petroleum products for consumption in Nigeria, as well as export abroad, thereby conserving foreign reserves and boost Gross Domestic Product.
"The company's supply of natural gas from its OPL to the nearby factories will trigger industrial growth and provide economic empowerment for the people and create job opportunities for the teeming unemployed youths in the country."
The refinery, which got its Environmental Impact Certificate, EIC, in 2005, would be fed from the two oil blocks, OPLs 915 and 916.
The oil field covers an approximate area of 2,158 square kilometres, lying predominantly in Anambra but extending into Kogi, Edo, Delta and Enugu states.
According to the statement, the company has been in constant contact with the state governments and community leaders in its area of operation, to ensure a harmonious relationship and eliminate negative social and environmental impacts.
It said the exploration activities went beyond states and in cases where hydrocarbon deposit was between state boundaries, it was the function of the Federal Governments to determine ownership and benefit among the states.
The statement further stated: "Petroleum is on the exclusive list of the Federal Government which grants licenses for exploration, production, sales etc to suitably qualified companies like OPR.
"These licenses transcend state and local government boundaries and jurisdiction.
"And where oil and gas pool straddle between state boundaries, the Federal Government would, through a process, evaluate the amount of hydrocarbon deposits and allocate the benefits of production of such oil and gas accruing to each state, as has been done recently between Rivers/Akwa Ibom, Cross Rivers/Akwa Ibom states."
Nwakwa, however, said that all facilities were ready for the president's visit for the inauguration of Anambra River-1 oil well and its Early Production Facility on August 30.
He said the heli-pad and heli-park projects for helicopter landing in Aguleri-Otu had been completed .