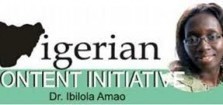 Dr. Ibilola Amao
13 May 2012, Sweetcrude, Lagos – Founded in 1969, the Offshore Technology Conference (OTC) is the world's foremost event for the development of offshore resources in the fields of drilling, exploration, production, and environmental protection. How many Nigerians have submitted abstracts, papers and are scheduled to make a presentation at the Offshore Technology Conference 2012? I ask and wonder.
I am still running through the topics scheduled for presentation at the technical sessions and still struggling to find a Nigerian name on the list of presenters. No Nigerian company is a recipient of the 2012 "Spotlight on New Technology Award".
To qualify for this award a company must be exhibiting new technology (Hardware and Software) that meet the following five criteria. The technologies must be: New, Innovative, Proven, of Broad Interest and have Significant Impact.
Baker Hughes, FMC Technologies, Halliburton, Schlumberger, Versabar, Inc., ShawCor Ltd, Reelwell AS, Dockwise and ClampOn are the only qualifiers this year. Where are the Nigerian companies? I wonder …Another concern is our understanding of Research and Development (R&D) or its importance.
Planned for 15:06 hrs in Room 312 on Tuesday May 1st 2012 is a paper titled: "Experimental and Numerical Studies of Spudcan-Pile Interaction" and submitted by: C.F. Leung, K. Tho, Y.K. Chow, National University of Singapore; Y. Xie, Cathie Associates; P.C. Wong, ExxonMobil Development Company; O.A. Purwana, Keppel Offshore & Marine" WHAT a combination !!!!!!.
This speaks volumes and emphasises the need for collaboration, cooperation and coordination. I see a paper worthy of presentation at the international stage being prepared by a combination of academia, intelligentsia, contracting and consulting company, an IOC client with private-public sector collaboration.
ExxonMobil would obviously become the benefactor of the findings (developmental and economics) because this paper relates to its project. The research was carried out in collaboration with National University of Singapore (NUS), a globally-oriented and focused university established to influence the future.
NUS runs a dynamic community, with a "no walls" culture and a spirit of enterprise which strives for positive influence and impact through education, research and service. Every member of NUS enjoys diverse opportunities for intellectual, personal and professional growth.
Its mission is to transform the way people think and do things through education, research and service based on: (a) Transformative education that nurtures thinking individuals who are alive to opportunities to make a difference, are valued members and leaders of society, and global citizens effective in diverse settings. (b) High-impact research that advances the boundaries of knowledge and contributes to the betterment of society. And (c) Dedicated service, as a national university, that adds to social, economic and national development.
One thing that struck me from the Keppel Offshore & Marine website is their sense of community, adventure and the zeal for which they want to break records. They achieve this through their partnerships:
1.    January 9th:  2012 Keppel AmFELS to Construct and Upgrade Deepwater Semisubmersible for Diamond Offshore for US$150 million
2.    February 7th, 2012  Keppel and ConocoPhillips to design first ice-worthy jackup rig for the Arctic Offshore
When will we get to the point where we put heads together and pull resources together to establish a winning team?  I do recommend the ILM Level 3 Leadership course that we run at Lonadek. Going through the 6 month blended training programme in 2010 made me realise that "a tree can never make a forest".
Until we learn to humble ourselves, work out our strengths and weaknesses, find the right team members that can maximise our potential and kinetic energies to achieve our goals and objectives, we can not achieve as much as we should. To fulfil purpose and destiny requires working with the winning team.