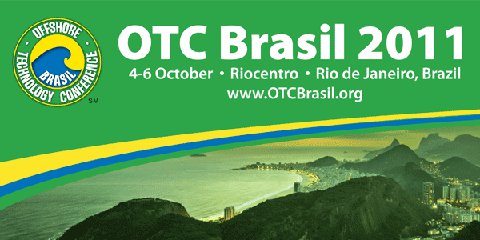 Houston, Texas – The inaugural 2011 OTC Brasil technical conference will present addresses from prominent industry leaders and experts in special sessions on key issues facing the Brazilian and global offshore oil and gas industry. Organized by the prestigious Offshore Technology Conference (OTC), OTC Brasil will be held 4-6 October in Rio de Janeiro, Brazil, and is expected to attract a large global audience.
"OTC Brasil will offer a wide range of important topics, with speakers and panelists from Brazilian and international companies presenting their views. Speakers continue to be added for a series of special sessions, which are in addition to the 200 technical papers from 19 countries that will be presented," said OTC Brasil Program Committee Co-Chair Ricardo Juiniti Bernardo, OGX Petroleo & Gas.
"OTC is a non-commercial organization, and our goal with OTC Brasil is to share technical knowledge and new ideas that will advance the offshore industry in Brazil and globally. OTC is known for its high-quality technical program developed by industry experts from our sponsoring societies. OTC Brasil also has three Brazilian supporting societies," said Steve Balint of Shell, 2012 chairman of the OTC Board of Directors.
The Opening Plenary Session topic is Brazil's Regulatory Regime for Offshore Oil and Gas Development, with speakers from ANP. A second plenary focuses on Challenges, Logistics, and Infrastructure.
Panel sessions will explore technology skills development by universities and industry, and compare the South America and West Africa petroleum systems, where major discoveries have been made.
Topical luncheons will present keynote speakers each day:
· BC-10: Today and Beyond – Speaker: Maria Pena, BC 10 Production Manager, Shell
· BP Advance Global Deepwater Capabilities: Lessons Being Applied Following the Macondo Accident and Response – Speaker: Felipe Bayon, Head of Special Projects, BP America
· Innovative Financial Options for Offshore Projects in Challenging Economic Times – Speaker: David Lyons, President, Capital Partners Worldwide Inc.
· TOTAL: Technological Know-how to Serve Its International Development – Speaker: Denis Palluat de Besset, President, Total E&P do Brasil Ltda
· Opportunities and Challenges for Service Providers in Brazil – Speakers: Harold H. Mesa, General Manager, Halliburton Brazil, and Mauricio Figueiredo, Managing Director of Brazil, Baker Hughes
· OGX: A Successful Brazilian Company – Speaker: Paulo Mendonça, General Executive Director, OGX