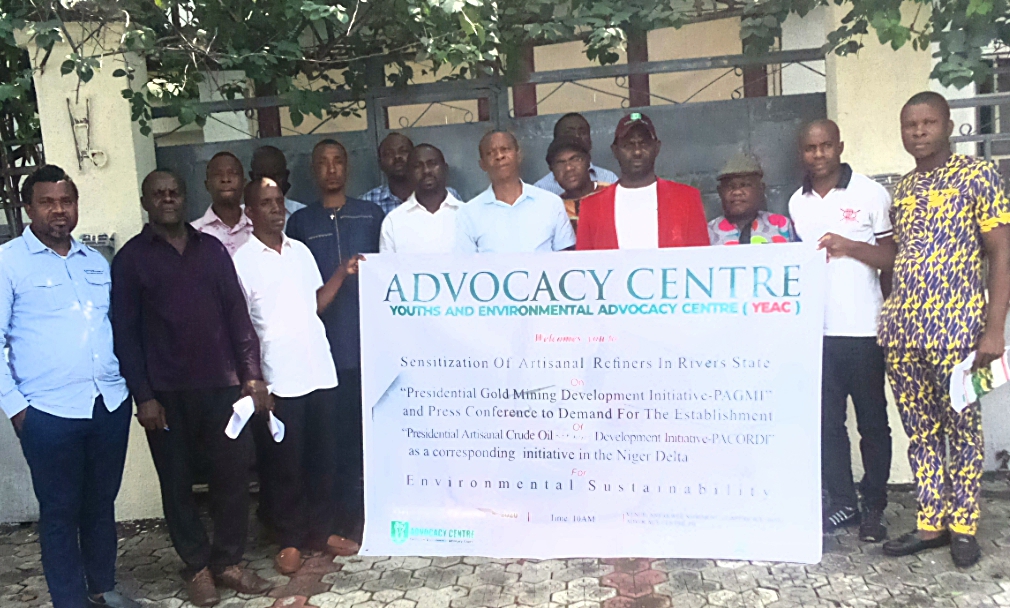 Mkpoikana Udoma
Port Harcourt — The Federal Government has been urged to set up a similar initiative like the Presidential Artisanal Gold Mining Development Initiative, PAGMI, to regulate, formalize and integrate artisanal crude oil refining activities in the Niger Delta, as obtainable in gold mining in the North.
PAGMI is a comprehensive artisanal and small-scale gold mining development program, launched by President Muhammadu Buhari in July 2020, to formalized and integrate artisanal gold mining activities into Nigeria's legal, economic and institutional framework.
The initiative is a catalyst for the integration of artisanal gold mining into formal economy and to provide access to markets for the Artisanal miners, through the National Gold Purchase Program, spearheaded by CBN.
But the Youths and Environmental Advocacy Centre, YEAC, has said that a corresponding Presidential scheme for Niger Delta artisanal refiners would save the environment and curb economic losses for the country, as a result of illegal refining activities.
Executive Director of YEAC, Fyneface Dumnamene Fyneface, spoke at a on-day sensitization of artisanal refiners in Rivers State on PAGMI, and press conference for a corresponding Presidential scheme for Niger Delta region.
Fyneface advocated for the establishment of Presidential Artisanal Crude Oil Refining Development Initiatives, PACORDI, as a corresponding initiative for artisanal refiners in the Niger Delta, for environmental sustainability.
He explained that PACORDI would lead to job creation, end fuel importation, wealth creation, productivity and capacity building, environmental sustainability, security as well as increased revenue for the government.
"As gold is found in Kebbi, Kaduna, Zamfara, Niger, Osun States; so is crude oil found in Abia, Akwa-lbom, Bayelsa, Imo, Ondo, Rivers and Delta States. Like youths in the 'gold states' got involved in illegal mining of gold found in their soil, so do youths in the 'oil states' also illegally mine oil found in their land.
"Both artisanal gold mining and artisanal crude oil mining are illegal activities with great consequences on environment, health and revenue. If steps have been taken to legalize illegal gold mining, steps should also be taken to legalize illegal oil mining in the Niger Delta because both activities hold the same potentials for country's benefit.
"Recall that a 2020 report titled "Dirty Fuel" by Stakeholder Democracy Network, found out that petrol produced by artisanal refiners in the Niger Delta is cleaner than those imported into Nigeria; the same way government saw that gold produced by illegal miners refiners in the North could stand the quality standard of London Bullion Market Association, LBMA.
"It is also on record that illegal artisanally-refined petroleum products and crude alike are exported out of this country and billions of revenue lost to the government; the same way federal government saw that between 2012 and 2018, 97tons of gold valued at over $3billion was illegally smuggled out of
Nigeria.
"In the case of crude, oil worth over $100million has been smuggled out of Nigeria over time, thus there is need to immediately establish a Presidential Artisanal Crude Oil Refining Development Initiative-PACORDI, as a corresponding initiative for those involved in artisanal crude oil refining in the Niger Della."
YEAC further said those who would benefit when PACORDI is established, include NNPC, oil marketers, CBN and various state governments, as well as artisanal refiners, rural communities, investors, etc.
"PACORDI would enable oil companies make more money from the sale of crude oil to artisanal refīners; the Federal Government would realize billions of Naira in revenues, taxes and licensing fees from the integration of artisanal crude oil mining activities.
"PACORDI will allow NNPC and other independent marketers to purchase locally produced PMS, DPK and AGO in
Naira, save and boost the nation's foreign reserves that was hitherto spent on petroleum products importation.
"The Niger Delta environment is almost dead from oil pollution with the known archaic methods of artisanal crude oil refining practices that contributes to the pollution. Thus, a more refined artisanal refining activity guided and regulated by PACORDI, just like PAGMl for gold mining, will save our environment and health of those involved in it."