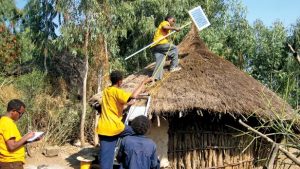 Oscarline Onwuemenyi
08 October 2017, Sweetcrude, Abuja – The Pan Africa Solar Limited, a London-based solar developing company, has said it is developing a solar power project, tagged pay-as-you-go project, which is designed to provide electricity for 93 million Nigerians that were not connected to the national grid.
The Chief Executive Officer of the company, Mr. Marcus Heal, who disclosed this on the sideline of the Annual Powering Africa Nigeria Summit in Abuja, said the project conceived in 2012, was part of its 5,000Mw utility-scale solar projects in Nigeria.
He further announced that work would soon begin on its 75 megawatts (Mw) solar power project in Katsina, which when completed, will provide power for 1.1 million Nigerians in the state.
He said, "We also have a second business, which is the home scale pay-as-you-go project. We now have a few 100 units; this project started six months ago, we got a few 100 units that have been deployed in Kano. We have finished our pilot, we are very proud to receive a cheque from Energynet which is going to transform our business.
"These projects can be expanded across northern Nigeria and into neighbouring states like Niger; we believe that there is a crucial business for the 93 million people in Nigeria that don't have access to the grid.
"We are developing utility-scale projects which help people to have access to the grid for the 93 million that don't have access; we have a home scale business called pay as you go; this will transform the lives of people in the very rural communities where their income is one dollar or two a day."
Mr. Heal noted that the company was the first among other solar developers in the country to sign a Power Purchase Agreement (PPA) with the government.
He said, "We are the first to obtain a licence in this country and we are very proud to hopefully be the first to commission a large scale utility solar project in Katsina State."
According to him, the construction of the project, which would begin in January 2018, would provide employment for nearly 1,000 people.
"These projects, because they are solar, they are quite fast to build, so the building programme is about eight or nine months and we will have to deliver the programme within the term of this presidency," he stated.
He said access to the solar power, when completed, would only attract about seven dollars per month from would-be users of the electricity.
"With about seven dollars per a month, they can have power, they can power lights in the house four to six electric bulbs, they can power radio, USB charger; they can power their television set, and they can have internet."
He said the company currently receives grants to execute its projects from the Solar Nigeria Programme, a DFID funded organisation, and other international organisations.
He said the funding from the international agencies was a source of foreign direct investment into Nigeria.